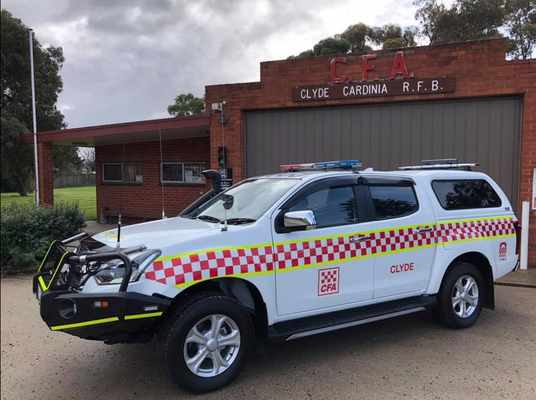 By Brendan Rees
Clyde fire brigade has unveiled its latest recruit – a four-wheel-drive forward command vehicle.
The purchase of the brand new vehicle, which was about $50,000, was made possible by 100 per cent of community donations.
The vehicle, an Isuzu DMax 4×4 Automatic three-litre diesel, has been a welcome addition to the brigade's fleet.
It features radios, a built-in navigation system, LED red and blue lights, a LED warning sign, siren, decals and a twin draw system in the rear cab which will enable members to carry gear and equipment in the rear of the vehicle securely.
The car has also been fitted with a dual battery to enable members to run a portable 12-volt fridge – which will ideal for summer months for water storage.
The vehicle will be used for community events, towing a special quick fill pump, conveying members to events of incidents, attending incidents as a support vehicle and as a strike team leaders' vehicle used at major fire incidents.
The vehicle's bigger payload capacity compared to its older vehicle will be a welcome feature for the brigade.
In a Facebook post, Clyde fire brigade thanked the support of the community – as the purchase of the car wouldn't have been possible.
"This total cost of this new vehicle was paid for by generous public donations and by the Clyde CFA volunteers fundraising efforts," the post read.
"Without the support and the financial generosity of the general public the purchase of this vehicle probably would not have happened. It is a welcome addition to our fleet."