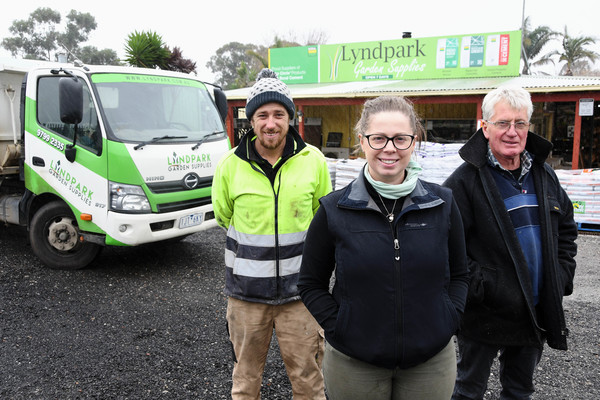 By Brendan Rees
From humble beginnings 30 years ago, Lyndpark Garden Supplies in Hampton Park has bloomed into a family-run business.
Whether it's garden sheds, pavers, pots, mulch, sand, soil, pebbles, water tanks, retaining walls, natural stone, crushed rock and toppings or even a homeware item, there is plenty of inspiration for one's next backyard project or decorating a home.
The business, which is run by Terry Borschman and his wife Susan, along with their children Mark, 32, and Kathleen, 30, has remained open throughout the pandemic – with a number of buyers "calling continuously" to order products as people stay at home.
The business has also kept busy supplying a bulk of their products to landscapers and gardeners – as it is a leading distributor of Adbri Masonry, Steel Chief Industries and Boral Cement.
Mr Borschman said one of their more popular items was factory clearance garden sheds from Steel Chief Industries – which were sold at cheaper prices on site.
"We've basically got hundreds to choose from," he said, which also included pavers.
"We've almost run out of space – our wide selection range has plenty of bargains to offer!"
The family say their business was briefly "knocked around" when their main entrance was changed from Hallam Road to the Suez Resource Recovery Precinct driveway in January due to the Hallam Road Upgrade project – but have been most satisfied with the consideration and support given by the contractors BMD.
And with the major works set to be completed in the next fortnight and temporary fencing is to come down – the family say they are excited to create more interest and bring new customers through their doors.
Mr Borschman said the growth in the area had been unimaginable as it was once known as a "country community" with Hallam Road consisting of three dairy farms when he and his wife purchased the site of their business four decades ago which was originally a five-and-half-acre old farm property.
The business has been one of the lucky few to have weathered the coronavirus storm – with no impact to staff numbers or their hours, however, with social distancing rules still in place, customers are limited in numbers when entering the hardware and homeware shops.
The eco-friendly homeware shop, which has undergone a recent rebranding after being named August and Alivina, has a stunning range of stunning items, big and small, to suit one's lifestyle.
This included indoor and outdoor décor, clothing, wall art, water features, mirrors, console tables, and plenty of indoor and outdoor pots with some locally sourced from Robert Gordon Pottery and Northcote pottery.