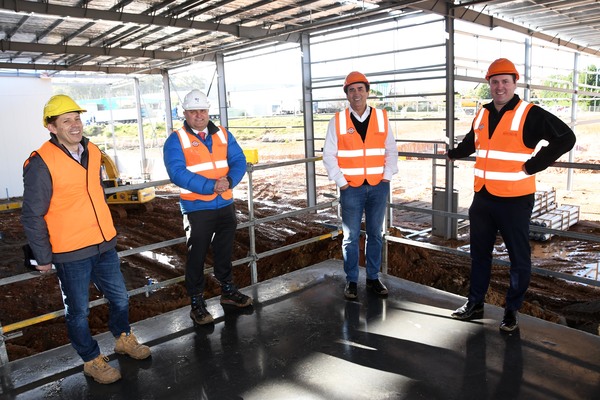 By Danielle Kutchel
Construction is powering ahead on a new community engagement, packaging and export distribution centre at Montague Orchard.
Covid-19 has not gotten in the way of the Narre Warren North orchard's plans, with parts of the facility on track to be opened in November 2020.
La Trobe MP Jason Wood was given a tour of the construction site on Thursday 4 June.
Although the Federal Government has not committed any funding to the project, Mr Wood praised the Montague family for having the drive to get the project, which has been four years in the making, off the ground.
"It's a huge credit to the Montagues to have a vision and passion and keep going forward," he said, adding he was saddened and disappointed at the lack of Federal funding so far.
The facility will incorporate a community engagement space, including mountain bike hire, a pick-your-own-orchard, educational hub and cafe.It has been designed with sustainability in mind, with solar panels and recycled water to be utilised in the finished building.
When finished, the facility will allow Montague to triple its packing capacity thanks to its high-tech credentials including a state-of-the-art automatic storage and retrieval system to drive efficiency.
The project has seen 200 tradespeople employed for the duration of the project, while 50 new permanent positions will be created in the centre.
It's anticipated the production facility will be complete in late January 2021.