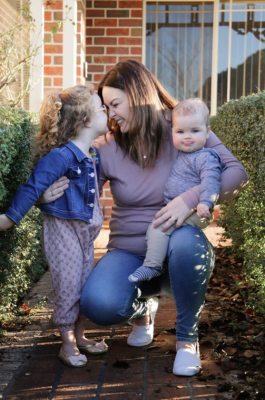 By Brendan Rees
A simple photography idea has given a whole new meaning to giving back to the community.
Photographer Lauren Matthews of Hallam started a new project in May called 'Pics Out Front' on Facebook where she offered families and businesses across Casey to have their photo taken at the front of their home or workplace for free.
In return Ms Matthews asked participants to shop local or donate to a charity in the community in her mission to pay it forward for those doing it tough during the pandemic.
The concept took off – with about 42 families and organisations signing up.
"I got good feedback from every family that I visited," Ms Matthews said.
"It was just nice to hear it actually triggered people's minds to think it would be nice to give back to the community.
"I have seen this being offered all around the world including a few fellow Victorian photographers and it's something I would love to be a part of."
Ms Matthews, 32, who has been a photographer since she left high school and started her own business last year called Lauren Maree Photography, said she provided a digital online gallery of photos for all participants after taking a "few happy and simple snaps" to "commemorate this time and our community".
In turn people donated to local cafes, shops, charities, and a police station.
The project finished at the end of May but many were keen for it to continue: "I had a lot of people actually enquiring when I finished up to see if I could keep going."