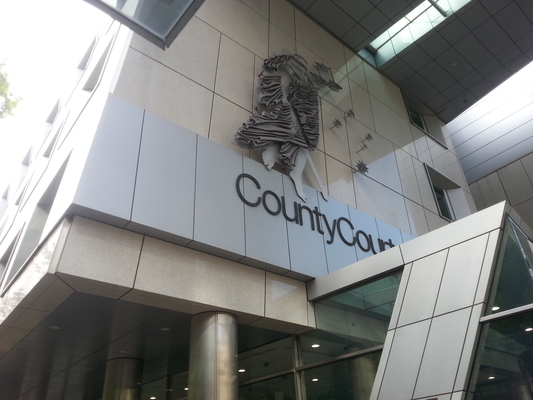 By Brendan Rees
A drug-addled man who used a fake gun to steal a car as he led police on a wild chase in Cranbourne has been jailed for at least five years.
Cori Harrison, 27, was sentenced to eight years and five months in jail at a Victorian County Court sitting on 10 July after pleading guilty to more than 35 charges including burglary, reckless conduct endangering persons, aggravated carjacking, and drive while disqualified.
In his sentencing remarks, Judge Ryan said: "Your crimes both indictable and summary demonstrate a complete disregard for the rules of the civilised community."
Jude Ryan added: "You continued to drive in an appalling manner and in each aspect of the police pursuit you put members of the public at risk."
The court heard Harrison had gone on a months-long crime spree between 27 February 2019 and 1 April 2019 – where he stole seven cars and filled up with fuel at service stations, where at times he would drive-off without paying.
He also affixed stolen registration plates to stolen cars, and used stolen credit cards to buy cigarettes, food and petrol, the court heard.
On 1 April, Harrison, who had an extensive criminal history, committed two burglaries and was in a stolen Mitsubishi Triton with mates when he led police on a dramatic pursuit.
The court heard Harrison crashed his Triton into a car before jumping out and pointing an imitation rifle at a man behind the wheel of a Ford utility and threatening to shoot him.
He continued to flee from police in the utility before crashing into two cars on the South Gippsland Highway outside the Settlement Hotel in Cranbourne.
Harrison, who was a disqualified driver at the time, was arrested at the scene and tested positive for methamphetamine after undertaking a preliminary oral fluid test, the court heard.
In a victim impact statement read to the court, the man who was in the Ford utility at time said he thought he was "going to be shot dead".
"I developed strength and courage, learnt to box and played rugby league … on the first of April that all changed having a gun in my face made my life flash before me," his statement recalled to the court, adding he was a father-of-three and now diagnosed with depression and PTSD.
"Nobody, absolutely nobody should have to be faced with having to go through what happened on that horrible day. It's something I will never forget."
Following a search of the stolen cars, police found a meat cleaver and stolen property in the Triton and seized the fake rifle in the utility, the court heard.
A victim of a burglary committed by Harrison said items stolen of her late husband were "sentimentally irreplaceable" after her house was "trashed".
The court was told Harrison, who is of Aboriginal heritage, grew up in an abusive household where drug use was prevalent. He attended 10 different primary schools and started using cannabis at age 11 and by 17 he was using "drugs heavily".
He dropped out of school at 15 and finished a tiling apprenticeship, however, this was interrupted by time in detention.
According to a psychologist report read out to the court Harrison had "chronic problems with an emerging personality disorder".
In sentencing Judge Ryan took into consideration Harrison's guilty plea as "some evidence" of remorse but regarded prospects of rehabilitation as being guarded.
He will be eligible for parole in five years.