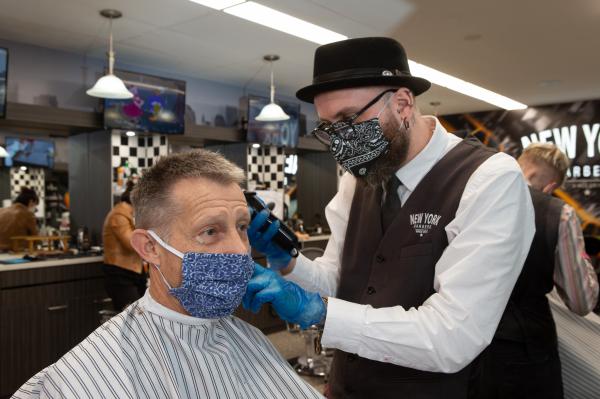 By Brendan Rees
Small businesses across Casey are bracing for a tough time as a raft of "heartbreaking" stay-at-home restrictions introduced by the Premier will see many close their doors.
Supermarkets, grocery stores, bottle shops, pharmacies, petrol stations, banks, newsagencies, post offices will stay open. But all other retailers will be forced to close to the public which industry experts believe will have a "devastating impact".
Of those who will be forced to close as of 11.59pm on Wednesday 5 August is Dion Fallace of New York Barbers in Berwick, who said he had a "line out the door" of customers requesting a last minute haircut.
"Definitely, this week it's been 10 times busier than usual … with everyone trying to get in before we shut down," he said.
"We're very fortunate to have help from the government that is going to allow us to still help out our staff.
"It's not the easiest thing but I think we'll be able to get through it."
Michelle, who runs a women's beauty services business from her Hampton Park home, was forced to close her doors about three weeks ago when restrictions were imposed on beauty salons."I think it's affecting everyone. You can't do anything about it … It's a bad time for all," she said, adding she was lucky her husband still had a job.
"We've got to persevere."
Cranbourne Chamber of Commerce president Judy Davis said the shutdown was going to be "tough on everyone".
"We have our own spirit and I am sure the people of Cranbourne will support our local businesses once we are back open," she said.
Steve Roberts, Associate Professor of Sociology, Faculty of Arts at Monash University said the shutdown of the retail sector would see "serious long-term ramifications" on youths who will find it hard to find work again.
Australian Retailers Association chief Paul Zahra welcomed measure to preserve online trade but said the latest restrictions would still have a "devastating impact".
Paul Guerra, chief executive of the Victorian Chamber of Commerce and Industry, said the restrictions "will be the end" for many struggling businesses.
"While it is somewhat positive that some vital industries will still be able to operate … the restrictions will still severely damage jobs and productivity," he said.
Premier Daniel Andrews said he was asking Victorians to "make some big sacrifices" to drive down the number of coronavirus cases.
A fine of $4957 has also be announced that will be issued to people found to have breached a requirement to be self-isolating for a "second or subsequent time" – a measure Opposition Police spokesman David Southwick said was "too little, too late".
Meanwhile, Casey Council is encouraging community groups impacted by the pandemic to apply for a range of council grants programs.