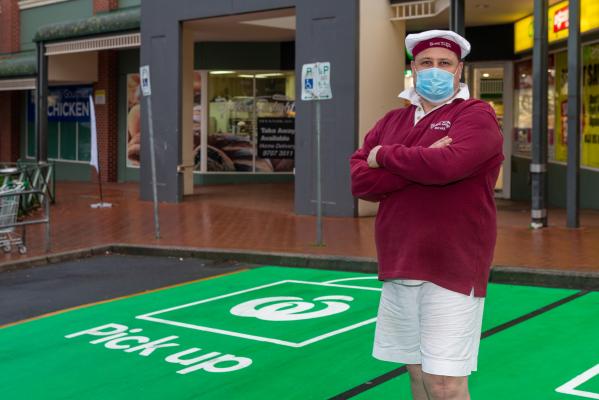 By Brendan Rees
A trader is up in arms after a retail giant decided to alter three parking bays to 'pick up' at the front of a Berwick shopping centre without notice.
Andrew Savige, owner of Baker's Delight at Berwick Marketplace, said he was stunned to find the parking spaces painted over in green for Woolworths 'click and collect' customers on Tuesday morning, 11 August after he and other traders were not consulted.
Mr Savige said he was "all for" 'click and collect' parking spaces but not when it involved using "prime" parking spaces at the expense of the elderly who would be forced to park further away.
"They're basically treating the elderly with content – no feeling for them at all, it's just 'click and collect'," he said.
"I'd be happy if they all went to disabled (parking); that's no dramas, but putting it for 'click and collect' so no one can park there that's just ridiculous.
Further adding to his frustration was that "Woolworths never told any of us. They've just gone and done it".
"We're all struggling, we're all in this boat together. You don't just jump on the bandwagon and just start writing your name on everything."
Casey Council manager of city and asset planning Keri New said council had not been "made aware of, or consulted" with by Woolworths management on changes made to the parking spaces.
"Council officers have investigated and confirmed that three 15-minute parking bays that have been altered to two 'click and collect' spaces do not impact access to the adjoining accessible parking spaces," Ms New said.
"These works were undertaken by the Woolworths management. It is noted that as part of State Government's announcement of stage four restrictions, there were recommendations for retailers to offer 'click and collect' as part of their Covid-19 Safe Plans.
"We understand that many businesses across the community are working hard to continue to serve our community throughout this challenging time.
"Council will work in conjunction with Bakers Delight management and impacted business owners, and will consider changes to other public parking spaces along the shop front to suit their and the community's needs."
Meanwhile, Mr Savige said knowing the council had not been made aware of the altered parking spaces had left him dumbfounded.
"I talked to the manager at the actual store and he said they had a permit," he said. "No one else would be able to do. They think they can get away with it.
"You can't chop a tree down and you can't put a bloody shed up without the council all over you."
Woolworths has been contacted for comment.