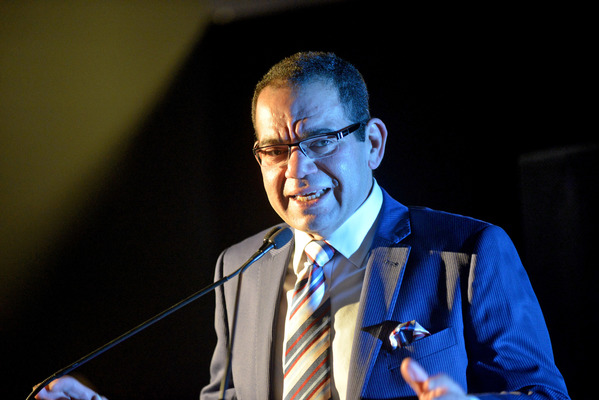 By Brendan Rees
Besieged former Casey mayor Sam Aziz says he's lucky to be alive after undergoing an operation to remove a rare cancerous gland at a Sydney hospital.
In a Facebook post on 9 September, Mr Aziz said the almost seven hour operation to remove an "extremely rare cancer" at the Royal Prince Alfred Hospital had been successful.
It comes after Mr Aziz posted to his Facebook page just days before the operation saying he had been rushed to intensive care after flying into Sydney from overseas three weeks ago, where he had remained since.
"I regret to advise that in addition to the two heart failures I suffered last year, I have now been diagnosed with an extremely rare cancer Pheochromocytosis and will undertake surgery this week to remove it," he wrote.
"It is a cancer that sits above adrenal glands (located at the top of each kidney) and apparently affects one in every million human beings! It is extremely dangerous and in my case it is causing my body to produce 7 x the adrenaline of a healthy person!
"As my specialist said, it is a miracle that I am still alive.
"I wasn't making up my health problems as some people so cruelly and ignorantly accused me of doing."
Mr Aziz is a 'person of interest' regarding an ongoing Independent Broad-based Anti-corruption Commission, where it is alleged he had dealings with a developer, however, he flew to Egypt last October just before the hearings began.
Last month an IBAC spokesperson confirmed the watchdog was aware of the recent return to Australia of Mr Aziz who remained a focus of IBAC's Operation Sandon, "an ongoing investigation into allegations of corruption concerning Casey Council".
In a court document filed by his lawyers earlier this year it claimed Mr Aziz had ongoing health conditions including a chronic heart condition, diabetes and mental health concerns which had delayed his return to Australia.
In his recent Facebook post Mr Aziz also hit out at the media for "peddling rubbish and destroying reputations".
"No-one can ever deny the proud legacy I left in the fact that the City of Casey became a much better city and government than the one that I came into for the first time in 2008," he wrote.
"For the record: I never took a bribe. Not one cent of the $900,000 that has been alleged and thrown around maliciously by the media all along!
"I fully cooperated with the IBAC investigation before I left and more still, IBAC knew I was travelling and never advised me not to travel or take any action to stop me!"
He conceded his trip to Egypt "was not an escape" but a "pursuit of a genuine and new exciting work opportunity".
"I did not sell my house to flee to Egypt. That house was a secondary property, not my main residence, and I sold it for both family and financial reasons, as people sometimes need to do!"
He continued to say in his Facebook post that his return to Australia was "genuine", and that "Australia is my home and I will always love it with all my heart".
IBAC's public hearings have been adjourned until further notice due to the Covid-19 pandemic.