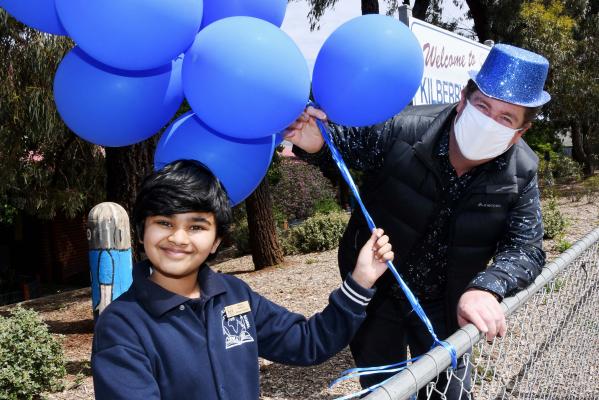 By Mitchell Clarke
The usually mundane school drop off was filled with smiles and a sense of joy, as students finally returned to the classroom after a long stint of online learning.
Schools across Cardinia Shire and the City of Casey were given the green light to return to physical teaching from Monday 12 October.
All primary school students, students in Year 7 and students studying VCE and VCAL subjects, as well as students at specialist schools have officially returned.
"This is a great day for students, school staff, parents and carers who have all worked incredibly hard to get us to this point," Premier Daniel Andrews said.
In a year that no one saw coming, a return to school has provided a touch of normalcy again – despite campuses looking more different than ever.
Temperature checks on arrival, masks for some students, physical distancing at drop off points and restrictions on external visitors are just some of the measures implemented to protect the community from the deadly virus.
Education Minister James Merlino thanked parents, teachers and school communities for their patience and resilience.
"Having students learn from home has made a significant contribution to slowing the spread of coronavirus in our community and has helped save lives," he said.
Now, the focus shifts to Term 4 and ensuring that every student is supported going forward.
Director of Catholic Education for the Diocese of Sale Maria Kirkwood said it was "wonderful" to see local students re-connecting with their peers.
"It has been a particularly challenging year for staff, students and families, and we appreciate everyone's efforts, as we work together to navigate these difficult times," Ms Kirkwood said.
"We look forward in hope to a successful completion to the 2020 school year."
St Francis Xavier College principal Vincent Feeney said the return to face to face learning was a "welcome resumption" of the new Covid normal.
"Students smiling behind masks, a bounce in their step and reassured by the familiarity of their teachers' voices and welcoming faces," he described, when asked about the first day back.
"The school made a special effort with balloons and signs and the like to remind the students that they matter, all of which has been appreciated by their parents as well, but now it is back to on-site learning – among their friends – supported by their committed teachers – in their school."
Narre Warren North Primary School principal Connie Vandervoort said just four children across all year levels were absent on the first day back.
"The children were keen to come to school and arrived with huge smiles on their faces. There were no tears on arrival or during the day. They were eager to go to their classroom and see the teacher and the children in their grade," she said.
"The children are excited to be with their friends and to be back at school as are the teachers and parents."
The school will stagger recess and lunch breaks to reduce the number of students in the yard and to ensure teachers work in "team bubbles".
The end of the school day will also look a little different with staggered pick ups to ensure not all parents arrive on campus at the same time.
"This will be by students leaving through gates associated with their House team and by surnames at different times," Ms Vandervoort explained.
"This week the teachers are easing the children back into their routine. The focus is on students' wellbeing and social and emotional learning."
Narre Warren South's Trinity Catholic Primary School principal Kathryn Pepper said it was "lovely" to see and hear all the children as they settled back into school.
"We're very thankful for the way our school community has taken part in remote learning, with persistence, understanding and patience. Parents and students should be very proud of themselves," Ms Pepper said.
Meanwhile, Beaconhills College headmaster Tony Sheumack said there was a sense of elation
across both Pakenham and Berwick campuses.
"It was wonderful to have our students back on what was a lovely, sunny day. It was absolutely beautiful," he said.
"It was almost like the first day back at school again and I'm sure we had some very happy parents who breathed a sigh of relief.
"Our school, like many, have had a very difficult year. We've been so proud of our Beaconhills community. Our parents have been great home teachers and our staff have put in a lot of extra hours."
Remaining students in Years 8 to 10 at metropolitan schools will return from Monday 26 October.