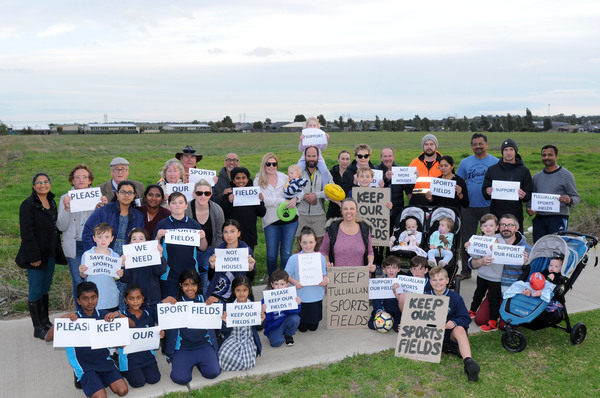 By Danielle Kutchel
It's not every day you get excited to see construction huts pop up on a block of land – but when Rebecca Hyland spotted the small buildings at 195S Alisma Blvd last month, she was overjoyed.
That's because they signify the end of a years-long battle with the developer of Tulliallan estate in Cranbourne North to retain the 6.8 hectare space for sports fields, as was promised to residents of the estate when they first bought their properties.
"Something good has happened in 2020!" said Ms Hyland, who has spearheaded the campaign against the developer.
The parcel of land has lain empty for years as locals faced off against the developer, Konann.
Residents had been assured that the land would be used for sports fields including soccer and cricket facilities.
But in 2015, Konann applied for a planning permit to subdivide the land into 132 residential allotments. This was knocked back by Casey Council in February 2016 "given the precinct structure plan depicts the land as future active open space under the planning scheme."
That wasn't the end of the saga, with Konann making a claim to the Minister of Planning and Casey Council for financial loss – which were both rejected.
The battle has also been to VCAT and the Supreme Court of Victoria.
According to the City of Casey, construction on the project is due to begin this month with an anticipated completion date of March 2022.
The project includes:
-Three soccer fields, two of which are overlaid on a cricket field.
– Cricket practice nets.
– A pavilion with six change rooms for players, two change rooms for referees, a community room, office, score rooms, kitchen, servery and toilets.
– Two car parks at either end of the reserve
– Landscaping throughout the reserve and car parks including planting, paving and a shelter.
– Lighting to playing fields and car parks.
The contract for its construction has been awarded to the Lloyd Group Pty Ltd.
Ms Hyland said the sight of the huts had been a welcome boost for the local community.
"Everyone here is super keen and excited to get it happening and be able to use the facility," she said.
"It's going to lift the morale of the whole estate, because it's a battle that we've been fighting, and to see it physically happening is awesome."