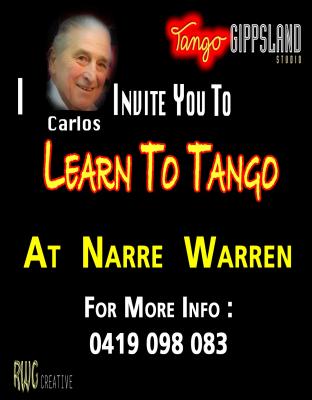 The community-based Narre Warren Bowls Club is inviting Casey and Cardinia residents to learn to tango on Monday nights and the first lesson is free.
"No partner or experience required," Tango Gippsland founder dance instructor Carlos Argentina said.
"As long as you can walk-you can tango and if you wait too long for the perfect moment, the perfect moment will pass you by.
"Like many before you, you will discover that your future will be enriched with joyous tango experiences, but be warned, tango is addictive."
Carlos believes that he will be able to help community members discover how the
dance they call tango will "ignite the hidden fire of desires within".
He believes it would make anyone's life "extraordinary".
Carlos has debunked assumptions about Argentine tango, including the fact it is not ballroom tango, all about stage performances, remotely comparable to Dancing with the Stars, a dance that can be mastered in a day or a series of memorised steps or patterns.
Summing up, Carlos says that describing Argentine tango in words is like giving someone a haircut over the phone.
"It will only be deficient and substandard at best when compared to the real
experience," he added.
"It takes a minute to fall in love with tango. It is elusive and addictive. It is obsessive and blissful. It can take you through a rainbow of emotions in a single song. It is never the same exact dance."
To find out more, contact Carlos on 0419 098 083 or email him at carlos@tangogippsland.com.
Visit: www.tangogippsland.com or follow the Facebook page Tango Gippsland.