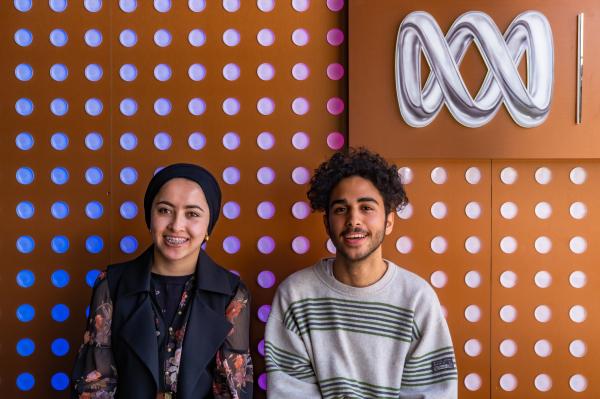 By Gabriella Payne
Two talented students from RMIT University's Bachelor of Communication (Journalism) program are making huge career strides after being chosen to undertake new ABC traineeships for culturally and linguistically diverse students.
Shamsiya Hussainpoor of Narre Warren South and Youssef Saudie of Coburg, said they were both "shocked and honoured" to find out they had been selected for the program, which many talented young journalists had applied for.
Both Ms Hussainpoor and Mr Saudie will be hosted by the ABC's Asia Pacific Newsroom for the duration of their traineeship, a total of 20 days, which will allow them to gain valuable experience and learn hands-on skills across television, radio and digital platforms.
At the end of their traineeship, the students will each be reviewed, with the potential to stay on working in a paid role as an ABC journalist for a semester – a career changing opportunity.
"It's honestly so crazy, I'm still trying to process it," Mr Saudie said.
"I've always wanted to tell diverse stories reflective of our multicultural society and our neighbouring countries… and I never thought I'd be given this opportunity."
Ms Hussainpoor said she was equally as thrilled about this exciting new adventure and was eager to represent minorities in the media.
"Securing this position is a huge accomplishment for me and is something I couldn't haven't imagined when I first started this journey," Ms Hussainpoor said.
"As someone who felt neglected and oppressed by the media for many years, this opportunity is the first step to not only give myself a fair voice but also other women from underrepresented communities.
I know how it feels to be voiceless and alienated but change is emerging, and it'll start with opportunities like this, for women like me."
Both Ms Hussainpoor and Mr Saudie are from culturally and linguistically diverse backgrounds; Ms Hussainpoor immigrated to Australia from Afghanistan in 2007 and Mr Saudie grew up in Alice Springs and has Egyptian roots.
Mr Saudie said that growing up in a rural community was difficult as a minority, and there was a lack of multicultural representation in the media.
"Coming from Alice Springs, a rural town, I grew up as one of the only Egyptians and Muslims in the school, and I didn't see myself represented properly," Mr Saudie said.
"I didn't feel I had a space or a place in the journalism industry because I wasn't represented and the stories didn't reflect the multicultural community, so this traineeship is amazing.
I feel honoured because now I get to be a part of telling those multicultural stories."
Matt O'Sullivan, the managing editor of Asia Pacific, ABC News said that this new program, a first for the ABC, would play a crucial part in the organisation's commitment to ensuring culturally and socially diverse voices were a part of the Australian media landscape.
"By supporting young journalists from a range of backgrounds, we can better reflect our community as it is and be more relevant to more Australians," Mr O'Sullivan said.
"I'm hugely excited about the potential of the young journalists we have seen so far, and know they will bring new perspectives and ideas to the ABC's Asia Pacific Newsroom, which is already an incredibly diverse workplace, and can only be enriched further through this program."
RMIT professional placement lecturer, Sonja Heydeman said that it's fabulous to see the ABC offer dedicated culturally and linguistically diverse traineeships for students, and she was incredibly proud that Ms Hussainpoor and Mr Saudie had been chosen to participate.
"This is a ground-breaking trial and an extraordinary opportunity for students to be in the running for a job as a working journalist after their internship traineeship experience," Ms Heydeman said.
Dr Alex Wake, the head of undergraduate and postgraduate journalism programs at RMIT said that the University had always valued and taken pride in its close relationship with the journalism industry, and this program was yet another fantastic opportunity for students to further their careers.
"In our courses we ensure our students graduate not only with the skills for the newsroom of today, but also the critical thinking for the future needs of the journalism industry," Dr Wake said.
"The ABC should be commended for its commitment to the future training of young journalists."
Whie Mr Saudie dreams of becoming a foreign correspondent, Ms Hussainpoor hopes to work across many platforms, ultimately becoming a TV news anchor one day.
Both students hope to impress their mentors, learn as much as possible and pave the way for the future of multicultural journalism.
"Knowing that people who come from marginalised communities who want to be journalists like us will have these sort of programs available is so important going in to the future," Ms Hussainpoor said.
"And thinking that we might be the people they turn to – that's even more amazing."