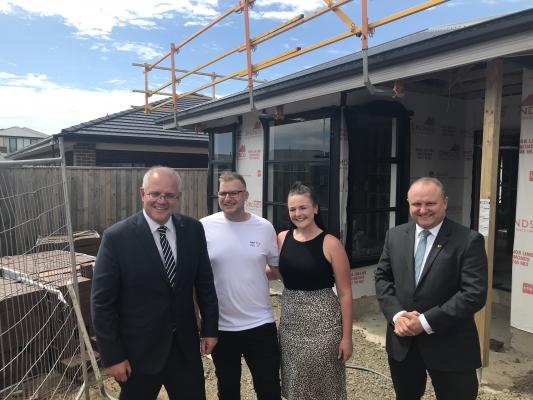 By Gabriella Payne
Prime Minister Scott Morrison made an impromptu appearance in Officer South this week, as he visited the construction site of a new family home, one of many to be built in the area as part of the Government's Home Builder scheme.
The PM smiled and waved as he strolled the streets of Kaduna Park on Thursday 11 February, chatting with local builders, electricians, apprentices and the two young newly-engaged homeowners, Mitchell Donne and Tahlia Blew, who received $25,000 from the programme to build their dream home.
Mr Morrison was taken on a tour through Mr Donne and Ms Blew's new home with Federal La Trobe MP Jason Wood, seeing first hand the benefits of the popular programme, which almost 82,000 Australians applied for.
While nearly 540 people applied for the scheme from Cardinia Shire, a whopping 1,672 residents lodged applications from the City of Casey for the Government grant – the second highest number in the state.
Mr Morrison said that it was "tremendous" to see the results of this scheme and the resilience of Australians moving forward after a difficult 2020.
"It's exciting as a government to see that when you design these programmes that they get these types of results. This is what it was intended to do. This is what it is doing, and I think that is giving Australians great confidence," Mr Morrison said.
"This is a pipeline of work of some $18 billion dollars, a residential building and construction industry, which you see on display here and so many places like it around the country."
Mr Wood said that with La Trobe being "the fastest growing federal electorate in the country" it was great to implement programmes like the Home Builder scheme, and see new housing builds like Mr Donne and Ms Blew's paving the way forward whilst boosting the economy as well.
"There's a lot of new infrastructure obviously going into La Trobe – from new car parks to keeping people employed during this Covid pandemic, it has been something really important for us locally," Mr Wood said.
"The Home Builder has been really important for us, not only locally, but nationally."
An incentive that was launched last year, the Prime Minister said that the Home Builder scheme is set to put Australia on the path to a post-pandemic economic recovery, investing thousands of dollars in homes for our growing population after a particularly tough year.
"Australia's response to the pandemic is working," Mr Morrison said.
"We're taking Australia out of crisis. We're taking us beyond the crisis. A crisis we want to be behind us, and I think all Australians feel that way.
Our policies are leading us out of crisis and they're leading us into growth," he said.
The Home Builder programme has been extended until Wednesday 31 March 2021, but has dropped down from the initial $25,000, to $15,000 grants for eligible households.
Mr Donne and Ms Blew said that the grant had provided the boost that they needed to commit to buying their first home.
"We wanted to stay around the Berwick area but it was pretty pricey around there, so when the package came out, we thought we'd take advantage of it," Mr Donne told Star News.
The couple said that they were excited to be working on this next chapter of their lives and it was "amazing" to have the Prime Minister visit their home.
Not only are they building a house, but the young couple are also in the midst of planning their wedding, after Mr Donne recently proposed to Ms Blew by spray painting 'will you marry me?' on the concrete slab in their future living room.
The Prime Minister congratulated the pair for "not only taking on this wonderful opportunity to build your first home", but also on their engagement and upcoming wedding – adding that he would "check his diary" to see if he could make it back to Officer South for the big day.
For more information about the Home Builder scheme, visit https://treasury.gov.au/coronavirus/homebuilder