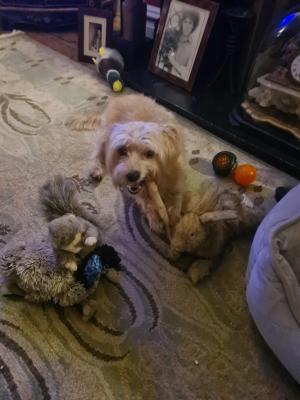 By Danielle Kutchel
A playful pooch in England is bringing some much needed joy to his owners and their Australian relatives during Covid lockdowns.
Artie the Welsh Terrier has been part of Robbie MacDuff and Marsh's family for a year now.
The rescue dog is bringing a smile to their faces during a tough time in their lives.Robbie and Marsh, who live in Liverpool, England, are struggling after losing work thanks to the pandemic.
Compunding the issue is one of the worst winters in years, according to Robbie's Berwick-based sister Jean.
Artie entered their lives at just the right moment, keeping them entertained with his playful and positive temperament.
But Artie isn't just keeping his Liverpudlian owners happy; his spirit is reaching across the ocean to cheer up Jean too.
"It keeps me going during these times," she explained.
Every day brings new emails about Artie's adventures, from long early morning walks to chasing squirrels up trees.
His cuddles are helping to reduce Robbie and Marsh's anxiety too, Jean said, and in return the dog is "completely spoilt".
The terrific terrier's way with the world has brought "love and happiness" into their lives at a difficult time, she said – proving once and for all that dogs really are man's best friend.