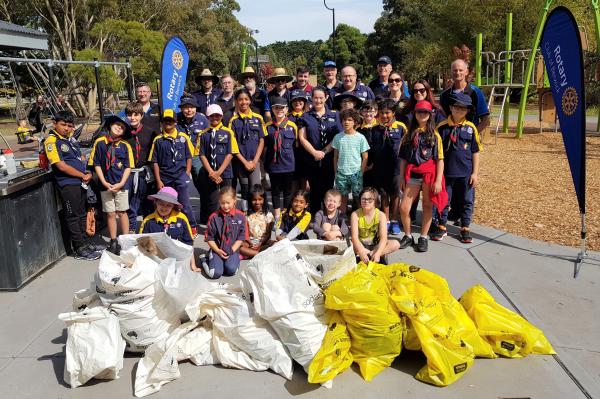 By Gabriella Payne
Clean Up Australia Day events were in full swing around the country on Sunday 7 March and locals from the Rotary Club of Berwick joined forces with cubs and parents from the Berwick Central Cub Group to clean up their own patch of nature on the weekend, showing that when it comes to the planet, we really are all in this together.
Meeting up at Buchanan Park at 10am, Rotarians, cubs and parents worked together to clean up almost 100 kgs of rubbish over a few hours – which was made up of 6.6 kg of recyclable materials and 91.4 kg of rubbish, including paper, broken glass, two fire extinguishers, a bicycle wheel, two shopping trolleys and a broken wooden pallet.
This community collaboration was organised by Rotarian, Jen Marshall and Berwick Central Cub Leader, Annette Lake and a fun time was had by everyone involved, all whilst cleaning up for a worthwhile cause.
Rubbish bags, high vis vests and disposable gloves (for both big and small hands) were provided by the 'Clean Up Australia Day' organisation to make litter collecting easier and after Buchanan Park was left "spotlessly clean", the workers all got to sit down and enjoy a well-deserved morning tea together.
The collected rubbish was left in a pile for the Cardinia Shire Council to pick up at a later time, and after getting to successfully work and share experiences alongside each other, this event will surely not be the last time that the two community groups join forces.
Another Clean Up Australia Day event was held by the Cardinia Landcare group at the Beaconsfield tennis courts on Sunday morning, and over just a few hours, the team of volunteers managed to collect 22 bags of rubbish between them.
Glenn Brooks-MacMillan from the Cardinia Landcare group said that the Beaconsfield event had been running "for many years" and was a collaborative effort between Landcare and Friends of Cardinia Creek Sanctuary.
"Every year we set up a tent and people come along and we pick up heaps of rubbish," Mr Brooks-MacMillan said.
In total, 25 people came along to this year's event at the Beaconsfield tennis courts and Mr Brooks-MacMillan said overall it was a great success.
"It all makes a difference," he said.