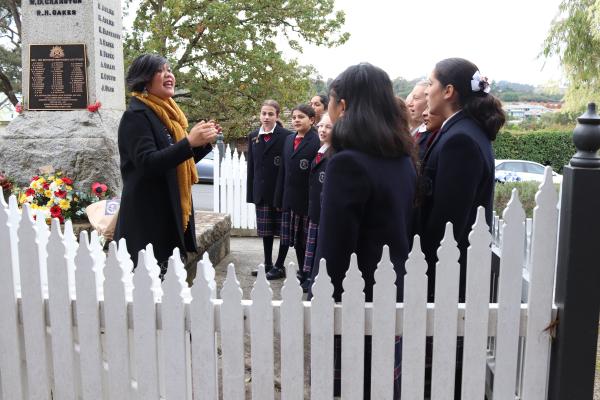 By Danielle Kutchel
Students and young people led Narre Warren North's Anzac Day services, ensuring the knowledge of what has been is passed on to new generations.
A dawn service held at the Narre Warren North War Memorial was hosted by 1st Narre Warren North Scout Group, and was attended by around 70 locals keen to pay their respects to the fallen.
Later in the morning, around 200 turned out for a mid-morning service that featured readings and hymns by students from Harkaway Hills College and Narre Warren North Primary School.
Steven Archibald, a representative of the Narre Warren North Community Association's Anzac Day Committee, said it was an emotional day that demonstrated how strong the Anzac tradition is, with "heartbreaking" tributes from the students involved.
"I think the day is still important and we should keep it in our community and keep remembering," he said.
"With the city [Melbourne Shrine of Remembrance] service being restricted on numbers, the communities seem to be the places where people are paying their respects.
"Two years ago, before Covid, we had 20 or 30 people come out, so I think people have wanted to come out, and they have."
He said Anzac Day held a special place in the hearts of Narre Warren North locals.
"These monuments were put up by the public. Everyone wanted to be able to remember and recognise what happened," he explained.
"This community is a very small community, and all the main roads around here are names you'll see on this cenotaph – some of the families still live here."
Narre Warren North was one of the few locations in the area to hold a public service, which Mr Archibald said may also have contributed to its popularity.
"Hopefully next year we will build on it and people will start getting back to that normality and be able to reflect in the way that they want to," he added.