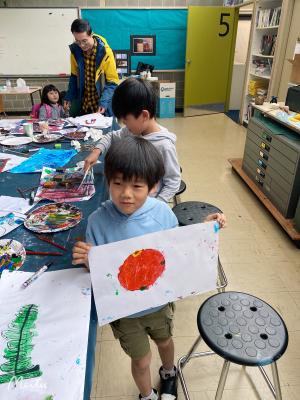 By Gabriella Payne
Art gets people talking, or so they say, and that's definitely the case for St Margaret's and Berwick Grammar School's new community arts program, which is helping integrate and connect our local Chinese diaspora with the wider community.
The art program held its first ever class on the morning of Saturday 24 April and Sabrina Li, the Chinese language teacher and community engagement coordinator at St Margaret's and Berwick Grammar School said that it had been a great success.
"It was really good and everyone had a great time," Ms Li said.
The program aims to not only help students with a range of artistic projects, but also provide a space for parents from the Chinese community to feel a sense of "belonging" where they can reach out and get help if need be.
"This program is helpful for the parents as well, because often they don't know where to ask for help and they are so scared of coming to their child's school, because they feel bad that they don't speak english," Ms Li explained.
"We hope to help them get more engaged in the school community," she said, adding that hopefully the program would help immigrant families realise that "people may be different from you, but we can all support each other".
Chinese students and parents from all across Cardinia and Casey came along to the first art class, where they explored a range of techniques such as watercolour painting and practicing still life art.
As well as creating a sense of community, Ms Li said that she hoped the art program would "help students who speak english as a second language to learn a new skill by learning how to make and appreciate art".
Gembrook MP Brad Battin made a speech at the inaugural class, as well as the principal at St Margaret's and Berwick Grammar School, Annette Rome.
Both Mr Battin and Ms Rome spoke of the importance of programs like this, stating it was a great way of helping strengthen our diverse, multicultural community.
"This is a growing area and I think this program has lots of potential," Ms Li said.
Another Chinese art class is planned in the near future as the school had received a great deal of positive feedback from the first session.
Ms Li said that while the program had a focus on the Chinese community, students from all backgrounds are welcome to come along to the next class.
"All students who are interested in arts can come and explore and improve with us," she said.