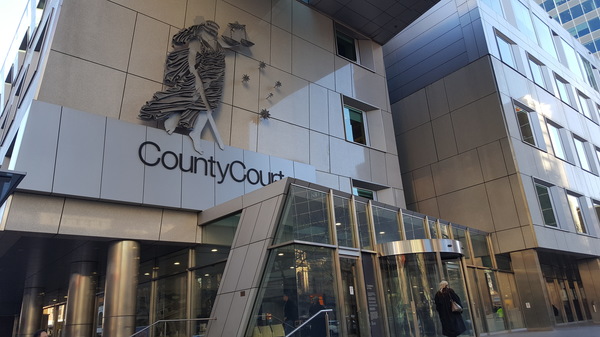 By Cam Lucadou-Wells
A man stole drones, tools and cars during a "sophisticated" 11-day commercial burglary spree across the South East and Melbourne, the County Court of Victoria heard.
Ricky Bloomfield, 27, pleaded guilty to seven burglaries and 11 thefts including six stolen vehicles, nearly $5700 cash from supermarket self-serve checkouts and $85,000 of drones.
He and multiple other offenders wore masks and used stolen cars with stolen number plates to avoid detection during eight break-ins in July 2019.
At the time he was on bail and unlicensed.
"This is obviously an extremely serious series of offending," Judge Carolene Gwynn said in sentencing on 27 April.
"These were professional burglaries targeting high-value premises by multiple offenders with the tools and equipment required to execute their dishonest intention.
"It was sophisticated, pre-meditated, orchestrated."
In one instance, Bloomfield and two associates were in a stolen Ford Ranger that rammed the doors of a drone shop in Oakleigh.
They filled up the ute's rear tray with drones and fled at high speed as police arrived, according to a prosecution summary.
Nine hours later, Bloomfield ran from a stolen Volvo involved in a two-car crash near Glassocks and Frankston-Narre Warren roads in Cranbourne.
Police seized the stolen drones and Bloomfield's phone from the Volvo.
In another break-in, Bloomfield and others stole $21,000 of electric tools, a laptop and cash from a Northcote auto-care business.
They fled in a stolen BMW.
Two of the stolen vehicles were later found burnt out and abandoned. Bloomfield was not charged with their destruction.
On the night of 16-17 July, he and two offenders broke into a Tint a Car franchise in Narre Warren and stole a Holden Barina with 'Tint a Car' decals.
The same night, they stole a VW Transporter van, driving it out through the front roller door of a Knoxfield 'Tint a Car' business.
Hours later, they broke into a Subway outlet in Beaconsfield, tried to jemmy a safe, smashed a register screen and stole several drinks.
They drove on to a Berwick Coles supermarket and used a demolition saw to access cash boxes on two self-serve checkouts.
The next day on 18 July 2019, Bloomfield was arrested at a South Yarra apartment block with a stolen Porsche station wagon.
In his satchel was $2240 cash and 14 grams of meth. Suspected stolen goods such as an iPad, jewellery and inspection camera were seized from his flat.
A long-term ice addict, Bloomfield was said to have offended to fund his drug habit.
His "unenviable" criminal history included 15 prior convictions for burglary since 2017.
Judge Gwynn noted previous jail stints and therapeutic court orders had failed to deter or assist Bloomfield.
In between, Bloomfield had been almost killed in a serious crash in his teens. He was a pillion passenger without a helmet on a motorcycle struck by a car.
He'd also lost sight in one eye from being struck by a golf ball. That was while "experimenting" with a home-made rocket launcher.
Judge Gwynn said "not all hope is lost" for Bloomfield, given his "relatively young" age and early guilty pleas.
"You have the supports in place to effect your desire for change. Ultimately this will be up to you whether this in fact will be achieved."
Bloomfield was jailed for up to three years, eight months. He must serve two years, nine months until eligible for parole.
The term includes 649 days in pre-sentence custody.
He was disqualified from driving for two years, and ordered to repay Coles $5695.