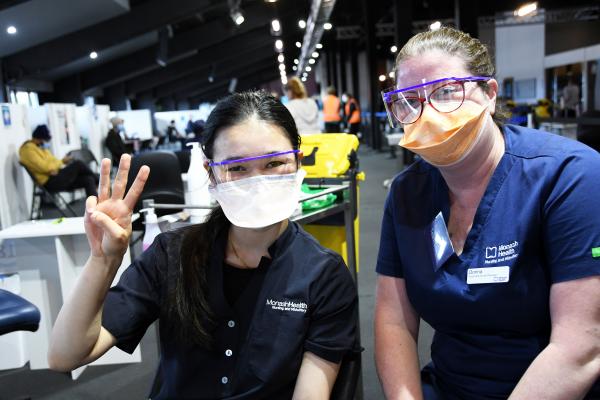 By Jamie Salter
Queues have almost disappeared at the vaccination hub at Cranbourne Turf Club, as Victoria approaches a 90 per cent double dose rate.
The clinic is delivering the last rounds of first and second Covid-19 vaccination doses and has administered 4,675 vaccines this month, as of November 19.
Nurse Bec McLachlan said booster shots were currently being delivered to health and aged care workers.
"We're expecting for it to pick up again early next year after children aged 5 to 11 are approved, and then we will see an increase again in July and August," Ms McLachlan said.
Anyone who received their second Covid-19 vaccination six months ago is eligible for a booster shot.
"It's been seen the rate of efficacy does reduce over time and getting the booster shot will increase coverage," Ms McLachlan said.
Booster shots are currently only offered as a Pfizer vaccine.
If someone has received a different vaccine including Astra Zeneca or Moderna, they can still get the Pfizer booster shot.
The Cranbourne vaccination hub has delivered a total of 400 booster doses to date.
According to Department of Health data, the City of Casey local government area has a first dose rate of over 95 per cent and a second dose rate of 92 per cent.
The vaccination clinic temporarily closed for five days between 11 and 15 November due to the Cranbourne Cup.
Ms McLachlan said the closure allowed for a redesign of the vaccination centre.
"We've changed the space around to make it more open plan," she said.
"We've taken ideas from our pop-up sites and Frankston hub which are more open plan as well, so we're keen to see how it runs when more patients start coming in."
There are plenty of Covid-19 vaccination appointments available.
To book online, visit portal.cvms.vic.gov.au