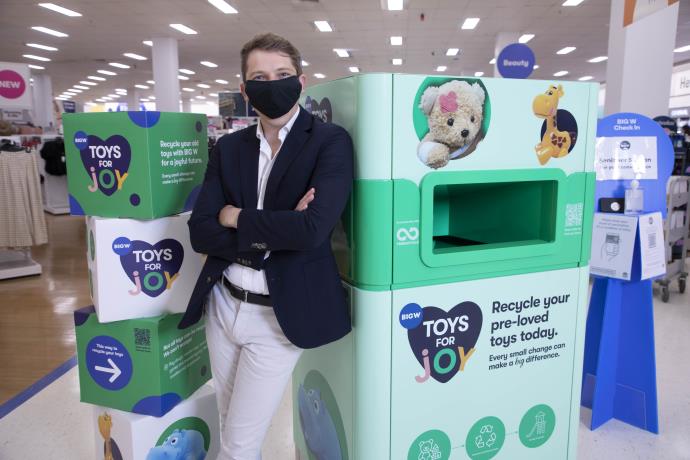 A first of its kind recycling program is launching at TerraCycle in partnership with BIG W Fountain Gate.
The Toys for Joy recycling program is providing Australian families with a sustainable solution for recycling their children's pre-loved toys.
With Australia generating 75.8 million tonnes of waste in 2018-19 (up 10 per cent on the previous two years) the initiative aims to reduce the number of toys that could find their way into landfill by giving toys no longer played with, a new lease on life.
Terracycle will recycle the toys to help create new play equipment in communities that need it most.
BIG W Victoria local area manager Lee Hodson said children grow out of their toys, which end up in landfill.
"Our stores involved in the initial pilot program delivered over 3,500kg to TerraCycle for recycling," Mr Hodson said.
"These results from the trial were incredibly encouraging and I can't wait to see what our communities achieve together as we bring Toys for Joy to more families across Australia."
TerraCycle Australia general manager Jean Bailliard praised BIG W for providing an in-store recycling solution for toys in Australia.
"The majority of toys aren't kerbside recyclable and end up in landfill because they're made up of complex materials like metal, rubber and a variety of plastics," Mr Bailliard said.
"It's incredible to see BIG W take on the recycling for all brands of toys and they have now expanded their program to 61 stores to make it even more accessible for Australians."
Simply drop pre-loved toys into the purpose built Toys for Joy recycling stations which can be found at the front of participating stores,
BIG W can not accept play dough, wooden toys, board games, or oversized toys such as bikes, scooters or skateboards.
COVID safety measures are in place to ensure Aussie families can drop off their toys safely.
The program is now available at Fountain Gate, Bendigo, Echuca, Epping and Highpoint BIG W stores, with the aim for Toys for Joy to be introduced in every BIG W store by the end of 2022.
For more information, visit bigw.com.au/toys-for-joy