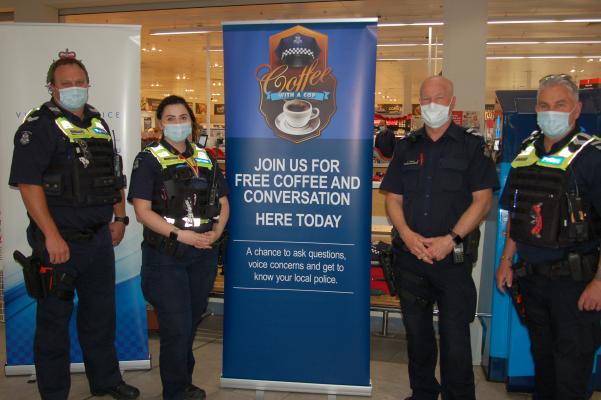 By Jamie Salter
Narre Warren and Dandenong police officers say hoon driving is currently one of the biggest issues affecting residents.
On November 26, police officers held an hour long 'coffee with a cop' meeting at Berwick's Eden Rise Village to shout locals a cup of coffee and hear their concerns.
Police said about 30 people stopped to share their thoughts, with some eager residents handing over maps marking hot spots for hoon driving.
Southern Metro Unit leading senior constable Frank Bailey said thefts were another major issue in the City of Casey and reminded property owners to lock their homes and vehicles at night.
"We have a lot of burglaries at homes because people get complacent and leave their homes unlocked and their keys in sight," Sen Constable Bailey said.
He said crime prevention was everyone's responsibility.
"If you go outdoors, be in a group, don't go late at night and stay in well-lit areas," Sen Constable Bailey said.
"Young people are more gutsy and will do things now that they didn't used to."
Some common crimes in the area involve stolen property including number plates, alcohol and catalytic converters that contain valuable metals.
Police reminded residents to 'lock it or lose it'.
Taking valuables out of vehicles and making it look like someone is home at night or when on holidays were key methods to preventing crime.
Non-urgent crimes and events can now be reported by phoning the police assistance line on 131 444 or by visiting police.vic.gov.au