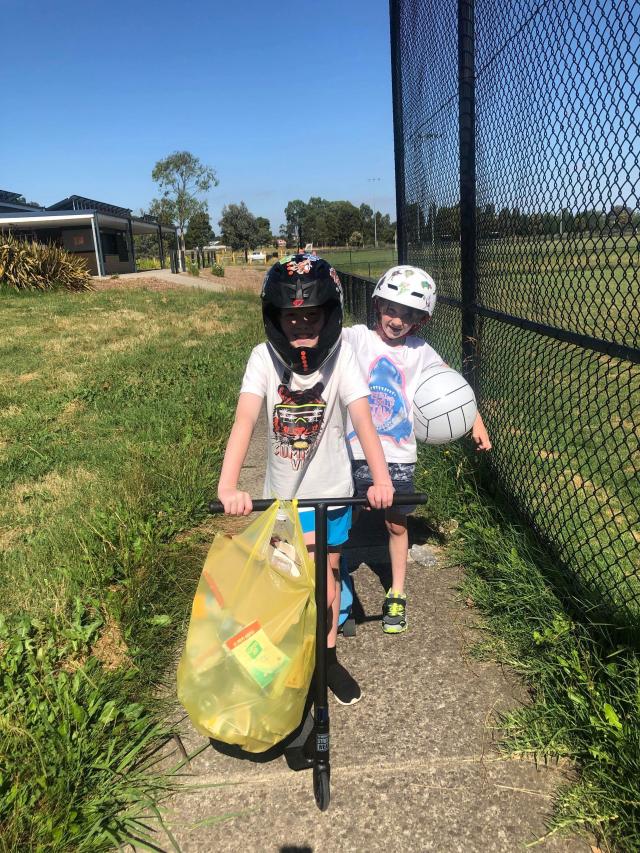 By Gabriella Payne
A couple of young environmental warriors took matters into their own hands recently when they saw the state of their local park – and they're now encouraging others to do the same.
Berwick brothers Reuben and Eli, aged 9 and 7, were out enjoying the school holiday sunshine at Sweeney Reserve on the weekend, when they noticed the mess all around them.
Instead of ignoring the problem, the young boys turned to their parents with a plan – why not clean it up themselves?
"On Saturday the boys were at the park and said how dirty it was, and asked if they could bring a bag back next time they went so they could pick up rubbish," their mother, Jackie Bannerman-Wilks, explained.
"We go over to the park all the time to cycle and play games, and we've noticed it's gotten worse with all the rubbish recently.
"There are not enough bins and so many people seem to use it and not care about leaving rubbish everywhere," she said.
"So on Sunday, they took three bags with them, and they managed to fill up all three!"
Jackie said that her sons came back from Sweeney Reserve with big smiles on their faces that afternoon and even though it was a small gesture, it had made them feel "really good about themselves".
"It's the little things isn't it?" she said.
"We've always brought them up to put their rubbish in their bin – and we just want the park to look nice for our children, and they want it to look nice too.
"They are at that age where they understand the effects littering has on the water ways, the environment and animals, and so they wanted to help," she said – and that they certainly did!
The boys' big sister, 10-year-old Matilda, had been sick at home and unable to join them that afternoon, but when Reuben and Eli told her about their clean-up crusade, she came up with another idea – why not invite the community to join in too?
Jackie said that her children were now planning to host a community clean up event at Sweeney Reserve on Clean Up Australia Day, coming up on Sunday 6 March 2022, and she and her husband were very proud of their efforts.
The kids plan to put up posters in the near future and invite everyone, both young and old, to join in their environmental initiative to help make their local park a fun and clean space for one and all to enjoy.
"Hopefully more people will join in on Clean Up [Australia] Day," Jackie said.
"The boys said if they could do it, then other people can do it too – and that way everything would be a bit nicer."