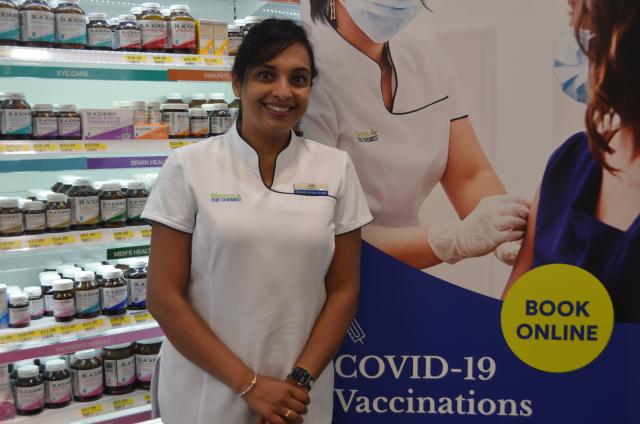 Casey Central's Blooms The Chemist is one of 35 stores opting in to join GP's and clinics around the country to administer the Covid-19 vaccine to children aged between 5 and 11 years.
Since the vaccination program commenced in July last year, the Blooms network has administered more than 117,000 Covid-19 vaccinations to members of the community.
Casey Central Blooms The Chemist co-owner and pharmacist Jotishna Chandra said she was delighted to support the Federal Government's Covid-19 vaccination roll-out.
"We're really proud we're part of this nationwide vaccination roll out, it is a wonderful feeling to be able to participate in this program," she said.
The pharmacy network has implemented mandatory training in the administration of vaccinations, giving parents the assurance their children are receiving the very best care.
"For those kids that might be a little scared, we calm them down by talking to them and parents can play videos on their devices – they find it is done before they know it," Ms Chandra said.
She said if children experience an uncommon side effect from their vaccine, they should immediately see a doctor.
"With any vaccination, the most common side effect is a sore and heavy arm and you can get a slight temperature but most side effects are very short lived," Ms Chandra said.
The chemist began delivering Covid-19 vaccines to children on January 10 – delivering 200 doses in three days.
"It gives parents peace of mind that their children are going back to school better protected," Ms Chandra said.
"Pharmacists are the most easily-accessible healthcare professionals and we are doing everything to ensure the health and safety of our community."
She said Bloom The Chemist pharmacists have been delivering first and second doses, and will now deliver booster shots.
"We do our best to ensure all our community members have access to all their healthcare needs," Ms Chandra said.
"It's been busy, but flowing very well."
The chemist is currently waiting for more vaccines to arrive and will regularly update the public on its Facebook page.
People looking for rapid antigen tests can join a waiting list to be informed when stock arrives.
Children will receive two doses of the Pfizer vaccine, eight weeks apart.
To book their children's vaccination at their local participating Blooms The Chemist pharmacy, parents are invited to utilise the online booking platform to secure their appointment at bloomsthechemist.com.au/booking/