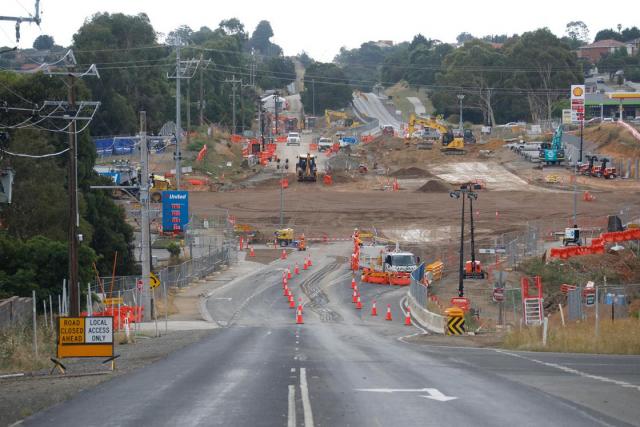 Works on the Hallam North and Heatherton Road closure are progressing and the intersection is set to open in all directions ahead of schedule from Tuesday 25 January.
Once open, there will continue to be lane closures on Hallam North Road, north of the roundabout and traffic signals will be in place to help local residents travel safely through this area and to alternate the traffic flow.
During the closure, crews worked to remove the existing roundabout and prepare the ground for the new traffic light intersection with drainage, electrical works and a large portion of the asphalting and concreting works.
A smaller, temporary roundabout has been installed which drivers will use until the new intersection has been completed later this year.
Work areas were set up during the closure to allow for future construction of new turning lanes and traffic signals, when road widening works have been completed.
Over the past three weeks, Major Road Projects Victoria (MRPV) have dug up and removed the existing roundabout and pavement, levelled out and raised the ground, installed 450 metres of new stormwater drainage and installed underground hardware for traffic signals and street lighting.
A new drainage crossing has also been installed beneath Hallam North Road, just north of the roundabout.
To build the crossing, a 12 metre wide, 30 metre long, four metre deep trench was built, which stretched from one side of Hallam North Road to the other and four large 1.3 metre diameter concrete pipes were then installed.
Temporary footpaths have been built near the roundabout for pedestrian access around construction works.
Major Road Projects Victoria project director Marc Peterson thanked residents, businesses and motorists for their understanding throughout the closure.
"We're pleased to reopen the Hallam North and Heatherton roads intersection early, thanks to the efficient delivery of major works this month," Mr Peterson said.
"We're gearing up for a year of major progress on this important safety upgrade.
"The construction of the new intersection allows crews to reopen new work areas and make significant progress on the construction of new lanes and the signalled intersection later this year."
The Hallam North and Heatherton Road Upgrade will be completed in 2023.