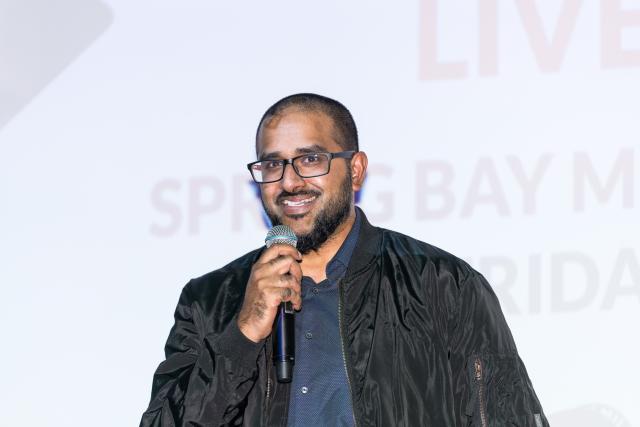 By Eleanor Wilson
A Berwick local wowed judges at this week's Very Short Film Festival, beating out 150 entries to win the open category for his animated film New Life.
Forty-year-old Mark Bernard was announced as a winner at last Friday's premiere screening of the 2022 festival, held at Spring Bay Mill in Tasmania.
Mr Bernard, who is a graphic and web designer in his everyday life, said creating the short film was "more of a passion project" for him.
"About 10 years ago I entered the Tropfest Film Festival, I ended up being shortlisted, however getting married and starting a family took priority over my creative ambitions," he said.
"It was always my dream to enter another film at some point in my life and the Very Short Film Festival appeared at just the right time for me!"
"I'm still pinching myself! Thanks so much to the inspirational judges, Artology, Spring Bay Mill, The Guardian and Wide Angle Tasmania for restarting my creative career!"
Mr Bernard's animation centres on the journey of a young person's progression in life amidst war and diversity, whereby they choose to look away and not deal with the pain, until a new life comes along and changes their perspective.
Mr Bernard said his animation, which sits at just under three minutes in length, was inspired by current world events.
"My thoughts have been with my Ukrainian friends that I consider family who have been affected, as well as displaced people from around the world," he said.
"My parents' journey was also an inspiration – they migrated to Australia in the late '70s to start their new life in this beautiful country and haven't looked back."
Mr Bernard said entering the competition has been "a game changer" for him, after his creative motivations took a hit from the Covid pandemic.
"Isolation due to the pandemic did take its toll – earlier on I was thinking I'll have all this time where I could catch up on my creativity – however, during the same period, I lost some friends and family members, as well as having family members pass away overseas due to Covid," he recalled.
"The Very Short Film Festival appealed to me as I had a target to create something in a short amount of time.
"I wasn't confident enough to create a lengthier film so it was a great stepping stone for me to dabble into film animation."
He said he hopes to develop his animation skills further and learn more about storytelling and film making.
"The judges that were involved with the Very Short Film Festival have really inspired me to delve further into creating powerful messages through the power of animation," he said.
Aside from reigniting his creative passion, Mr Bernard was also awarded with a cash prize of $5000 and will be mentored by VSFF judges.
Mark Bernard can be found on social media as @sketchnkustom.
To view his winning short film, head to veryshortfilmfestival.com.au/meet-the-filmmakers/