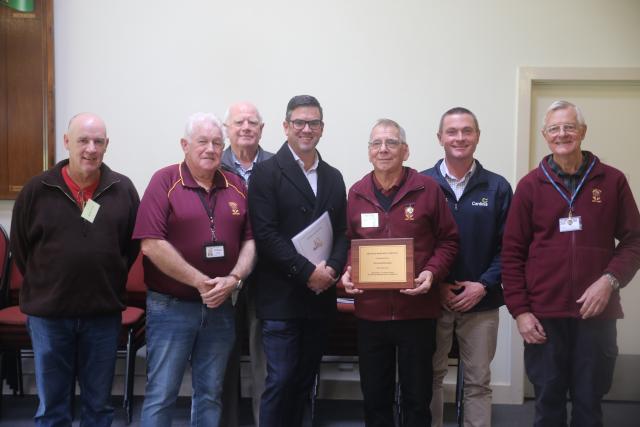 By Eleanor Wilson
For 10 years now, Akoonah Park Men's Shed has been providing the retired men of Berwick with a vessel to service the community and each other.
From humble beginnings as a singular "broken down steel shed" at Akoonah Park, the Men's Shed has grown to be regarded as one of the leading sheds in the country.
Often referenced as an example of what can be done when a group of retired men come together, the shed's 10-year anniversary, held at Akoonah Park on Thursday 16 June, was a celebration of some of the most dedicated men in the community .
Started by former City of Casey Councillor and former Mayor of Berwick John Byron in April 2012, the Akoonah Park Men's Shed's inaugural meeting consisted of 27 members, eight of which attended the 10-year anniversary at the park.
Today the shed stands tall on the grounds of Akoonah Park, with three large sheds and a bustling membership of 150 retired men.
But just ten years ago, as the members put it, they had no running water, no toilet and no money.
"When we started we only had 27 people and my ambition at the time was to create a Men's Shed so I could learn to use tools," founding member and past president Brian Hetherton said.
Through dedication, hard work, fundraising and assistance from Akoonah Park, local businesses and all levels of government, the Men's Shed was able to build two adjoining sheds.
Today, these sheds house a recreation room,metal workshop, blacksmith's shop, hobby room and extra toilet facilities.
"I'm proud of where it's got to and the membership is just fantastic," Mr Hetherton said.
Victorian Men's Shed Association former president Lindsay Oates said the Akoonah Park shed was one of the country's leading Men's Sheds.
"[Akoonah Park Men's Shed] is well known for its contribution to the community and for assisting and caring for its members," he said.
"The sheds are very significant in what they do in assisting the men; it's all about being able to get together, share your skills and experiences and the camaraderie."
Ten years on, the shed's committee continues to enable a range of activities for its members, including photography, woodwork and metalwork, fitness activities, fishing, golf and cooking.
Like many community groups, the shed faced challenges throughout Covid, yet managed to pull through without a significant impact on its membership.
Many of the club members credit this to the shed's leadership committee, namely current president Maurice Hall, who received a Life Membership medal at the ceremony.
"Maurice has been the glue that has allowed our shed to achieve 10 years of service in our community," committee member Ernie Bird said.
"Probably the most significant attribute Maurice has is his caring, thoughtful, supporting attitude, which has pulled members together in the most difficult of times."