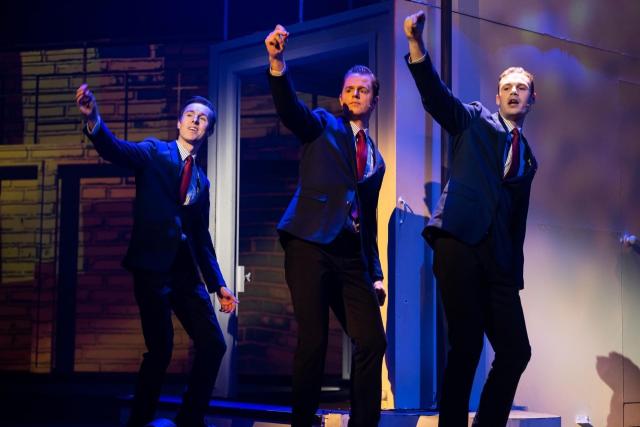 By Chloe Henry
Windmill Theatre Company has returned to the stage at Bunjil Place with its 2022 production of Jersey Boys.
Showing from 11 to 26 June, the two-and-a-half-hour long amateur production has been in the works since February and tells the story of the formation, success and eventual break-up of the 1960s rock 'n' roll group The Four Seasons.
Cast member Sean van Geyzel said the show's audiences had been fantastic.
"The most common response is just how much people are engrossed by what is a truly fascinating true story of how these guys rose to fame, and the challenges and adversity they faced along the way," he said.
The show was originally planned for June 2021, however, Covid-19 pushed production back due to cast members contracting the virus.
"Obviously, Covid has knocked the arts around a fair bit and community-based companies such as ours are no exception to that," Sean said.
"Covid has presented numerous challenges throughout the rehearsal period with our production team and cast members almost all contracting it at some point along the way."
Although audiences are starting to return to theatres, there are still those reluctant to book early in case of contracting the virus.
"As our productions are almost entirely funded by ticket sales, it does make for some nervous times as we cross our fingers that people will venture out to be part of the fun," Sean said.
Casey resident Dan Maurer is a part of Jersey Boys' ensemble cast and plays 10 roles in the production, including a struggling singer, mobster and record producer.
"I am so glad that I decided to put my time, energy and heart into this. It has been such a rewarding experience," he said.
Being a member of the Windmill Theatre Company since 2002, Dan missed performing during Melbourne's lockdowns, and made a promise once he got out to put more energy into doing things that bring him joy.
"You don't know what you've got until it's gone, and I really missed performing," he said.
"To have been given the opportunity one more time is something I'll never take for granted again."
Dan is appreciative of the chance to perform as a part of Jersey Boys for his local community and entertain people, since the last couple of years gave him little chance to do so.
"I feel lucky that we can put on such a high-quality production for everyone to see," he said.
"Given the last couple of years we've all had, we all need to reconnect, and the theatre is a great place to start!"