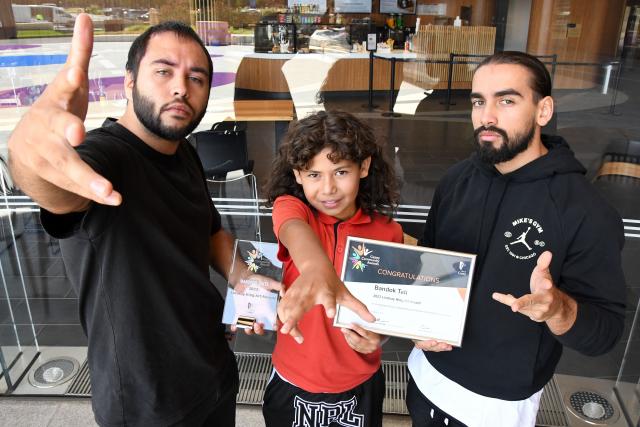 By Eleanor Wilson
While their name might translate to 'small ant brothers', Indigenous boys dance group Bandok Tati are making giant waves in Victoria's cultural scene.
The group of cousins, aged between eight and 23, were last month awarded the Lindsay King Art Award at the 2023 Casey Community Awards, which recognised them as a group which has made a valuable contribution to and had a positive impact on the arts community in Casey – located on Bunurong Country.
The award adds to a wealth of praise for the group in the less than two years they have been established, in that time performing at NAIDOC Week celebrations, sporting events and large awards events in front of thousands.
Lead songman and founding member Johnny Terrick, a proud Wurundjeri and Bidwell man with ties to Dja Dja Wurrung and Gunai Kurnai Nations, said performing at singer-songwriter and Aboriginal activist Archie Roach's memorial recently was a major highlight for the group.
"We were invited to perform our ceremony there with the other groups and just being involved in such a big spectacle and performing for someone so significant, I think that was just really special," he said.
For fellow member Chris George, who, like his cousin, has ties to Wurundjeri, Bidwell, Dja Dja Wurrung and Gunai Kurnai Nations, said showcasing his culture to the world is the most rewarding part of being a Bandok Tati member.
"We went to perform at a school and there were exchange students from Okinawa there and they just looked mesmerised," he said.
"They wanted to get photos with us and you know, they take that back to their country and they get to show our culture to their home. So for me that was amazing.
"Even when people come up to us after we've done our dance and they say how much they loved it you know, it just shows we're being recognised, so for me things like that are a massive standout."
For Chris, joining Bandok Tati also allowed him to become closer to his Indigenous heritage, which he said he became "a little bit disconnected from" during his teenage years.
"I just wasn't around Mob, and then in the last few years, I've started to get to know my cousins better. So it was an opportunity for me to continue culture and feel connected again."
He said flying the flag for his culture through dance means a lot to him.
"Through my teenage years and high school years, a lot of people I went to school with had no idea about the culture in general, nothing about us, and they just kept asking me questions but I didn't have all the answers, and it becomes frustrating trying to explain that to people every day.
"Being able to teach through dance means we can talk to them about our culture and that allows people to get more knowledge. So it represents us all when we get to do it through dance."
Johnny agreed performing traditional Aboriginal dances evokes a unique connection to his culture.
"Something like this brings a connection a lot of things can't, because it is something our ancestors practised since the beginning of time."
He said it felt surreal to be announced as the winner of the Lindsay King Art Award.
"When I got the email about being nominated I thought it was really cool – a bit surreal, I never expected we would win it, it was just shocking to me.
"It means a lot, especially in these areas for our people. Our tribe, our area, our language was wiped out a lot, our ceremonies, our traditions, so to be able to revive it in a sense, and bring it back, it's really empowering, especially being so young.
"For me, just to be recognised for the work we're putting in, like how much work we put in to putting our culture out there is important, because a lot of people are really ashamed of being Aboriginal sometimes, but that's part of what we do, is put ourselves out there to make everyone else more confident," Chris added.
Twelve-year-old Makai, a Narungga boy and one of the younger members of the group, said he appreciates being able to spend time with his cousins in an impactful way.
"I enjoy connecting with my cousins and my culture and learning about the history and all the cool places we get to dance at," he said.
"I look up to a lot of them as role models, not just for dancing but other stuff too."
The group has large goals for the future, hoping to inspire the broader community, and eventually the world, to learn more about the beauty of the oldest surviving culture in history.
"My hope for the future is to one day, be able to represent it worldwide. Because you have a lot of people that will come from overseas and they don't even know we exist, so I believe if we can get ourselves out there, and I hope we can, and represent it to the rest of the world, we can show them how beautiful our culture is," Chris said.
Johnny agreed taking the groups to new audiences is the biggest goal for the future.
"We feel like we've done a lot in our area, brought our culture here, revived the power and strength back to it, so we'd love to be able o go interstate or even overseas and be able to showcase our culture and tell our stories."