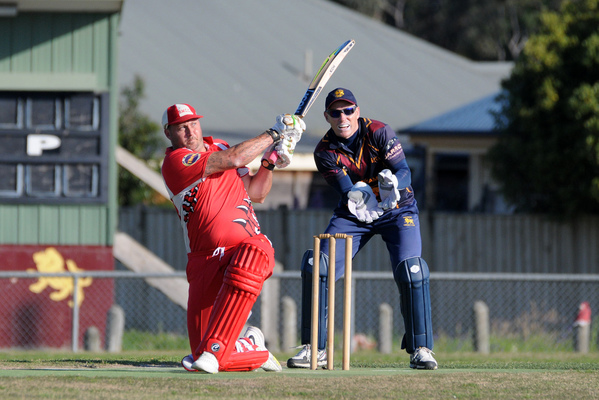 By Russell Bennett and Hayley Wildes
WEST GIPPSLAND CRICKET ASSOCIATION
REVIEW – ROUND 1
The bulk of the attention on the WGCA's Premier division was focussed on two games in particular on Saturday, with Pakenham, Devon Meadows, Clyde and Tooradin all attracting plenty of intrigue.
The Lions have welcomed back favourite sons Ben Maroney and Jack Ryan, but lost inspirational leader Dom Paynter to a knee injury sustained during the footy season.
In his place is star recruit Dale Tormey, who took no time settling into his new side and new competition.
The Panthers, meanwhile, have plenty to prove since winning their way up to the Premier division for the first time.
On Saturday, it was the Lions who emerged victorious – amassing 7/237 from their 40 overs thanks to sparkling knocks from Maroney (93) and Tormey (77).
The Panthers showed plenty of spirit in their reply – led by player-coach Scott Clark with 70 in the middle order – but ultimately fell short, restricted to 9/186.
Clark has only recently returned to Australian shores after a stint playing in England, and he hit the new WGCA season in immediate form.
A number of his team mates got starts, but struggled to capitalise against an experienced Pakenham attack.
Pakenham skipper Rob Elston was pleased with his side's first-up hitout to open the season, admitting they'd played 'October cricket' – a nod to the improvement they're capable of making between now and March.
"The way that Ben and Dale batted was exceptional – they didn't do anything extraordinary or out of the box, they just hit the loose balls and rotated the strike really well," Elston said.
"I think we missed a bit of a trick in the last 10 overs maybe trying to be too aggressive.
"But to get 237 on the board in a one-dayer you put yourself in a good position."
Meanwhile at Clyde, the Cougars seemed to mount a particularly competitive total batting first at home – reaching 8/195 from their 40 overs against Tooradin.
Keeper-batsman Kiefer Peries, the skipper of the side in his first year back at the club, led the way with the willow with a composed, patient 63 but wickets continued to fall around him just as batsman got started.
Tooradin's bowlers struggled for consistency in their line and length through the opening stages of the Clyde innings, but two bowlers in particular stood tall – Brayden Browne (2/29 off six), and the economical Bailey Lownds (1/25 from his eight).
But it was the Seagulls' reply that really made onlookers stand up and take notice. After losing opener Andrew Proctor in the opening over at 1/1, Russell Lehman (98 not out) and Cal O'Hare (90 not out) were simply sensational in their match-winning 198-run, second wicket stand. The pair would have given a couple of combined chances at the very most as they dispatched the ball to all parts, including some towering sixes off the bat of O'Hare – one of which landed on the roof of the clubrooms.
Clyde's bowlers seemed powerless to stop the pair as they chased the Cougars' total down inside 37 overs.
In other Premier matches, Cardinia survived a few early hiccups in their chase to ultimately defeat Merinda Park by two wickets with around 10 overs to spare.
Batting first at Donnelly Reserve, Merinda Park was rolled for just 100 in the 33rd over with star opener Daniel McCalman (24) the only one to pass 20 as new Bulls recruit James Giertz snared 4/25 from his eight overs and spinner Ryan Little took 3/16.
But the Bulls lost a host of early wickets in their chase, including skipper Alex Nooy (3), Giertz (0), Ben Parrott (10), and another of their new recruits, AJ Walker (13). Chasing a seemingly modest total, they were suddenly 4/41 and then 5/58 before the middle order steadied – thanks in large part to Ricky Campbell's 36.
Finally out of danger with Matt Welsh's dismissal at 6/98, the Bulls chased the Cobras' total down in the 31st over.
And reigning premier Kooweerup got its season off to an ideal start with a commanding performance at Denhams Road against Upper Beaconsfield.
Batting first, the Demons reached 8/216 from their 40 overs with new recruit and former Officer young gun Tyler Clark making an immediate impact with a sparkling 85, before rolling the Maroons for just 117.
In the District division, Cardinia had a rough initiation in its season-opening game.
Taking on Cranbourne Meadows, the Bulls stumbled their way to 6/55 and eventually tallied 9/130 as Iftikhar Rauf (3/6) created plenty of havoc.
The Rebels – led by Kulith Rabel (46 not out) and Jahanzaib Athar (42) – reached the target with 15 overs to spare, claiming the win in dominant fashion.
At Nar Nar Goon, the Marygoons timed their run-chase to perfection against Clyde. The Cougars opening pairing of Warwick Weir (50) and Shane Webster (45) set the innings up brilliantly, while Kane Avard (44 not out) ensured the scoreboard kept ticking over as Clyde tallied a competitive total of 3/180.
The Marygoons' run chase was in trouble early as opener Brannon Harrison was dismissed for a duck, but all other batsmen made solid contributions, and it was Scott Hayes (47 not out) and Matthew Dodman (25 not out) who held their nerve in the final two overs to guide the Marygoons to an important first round win.
Carlisle Park Vikings also claimed a win over Tooradin after restricting the home side to 8/156. Tooradin's Ned Harrison (51) and Ben Mantel (41) soldiered on for the Seagulls as others fell cheaply.
Led by a terrific half century from Amjinder Singh Mann (62), the Vikings claimed the win after chasing down Tooradin's total with five overs to spare.
And Emerald claimed the chocolates in a thriller over Officer, making 6/209 before restricting the Bullants to 189.
In Sub-District, Merinda Park showcased its class as it took care of Gembrook with ease in what was its first outing in the Sub-District division after claiming the B Grade premiership last season.
Josh Phillips (4/12) and Brendan Fairlam (4/27) were ruthless for the Cobras as they bowled the Brookers out for just 108 runs in 31 overs.
Merinda Park was controlled and equally impressive in their run chase as Noel Betreen (41) and Gagandeep Sharma (35 not out) helped the Cobras reach the target in just 15 overs for the loss of two wickets.
In other matches, Pakenham Upper/Toomuc's bowlers turned things around and led the Yabbies to a strong win over Kooweerup.
The Yabbies elected to bat first and were bowled out for just 117 in 33 overs.
Defending a modest total, Pakenham Upper/Toomuc's bowlers left nothing to chance, demolishing the Demons' top-order batsmen. At 4/12, Kooweerup was in dire trouble and unfortunately for the Demons, it didn't get any better as Nicholas Kyval (6/11) delivered eight brutal overs to dismiss Kooweerup's top-five batsmen, dismissing the Demons for just 67.
Catani 5/193 also picked up a win against Nyora 62, while Pakenham enjoyed a seven wicket win against Lang Lang.