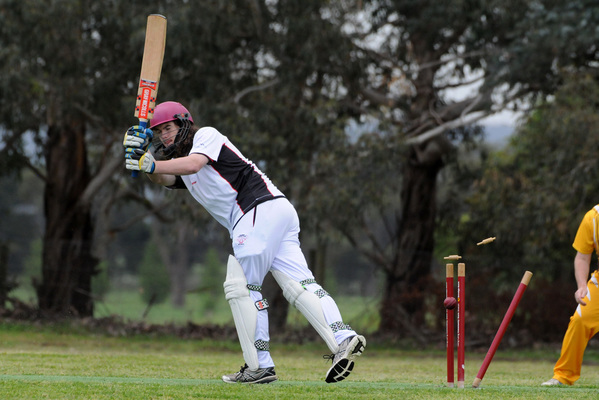 By Russell Bennett and Hayley Wildes
WEST GIPPSLAND CRICKET ASSOCIATION
REVIEW – ROUND 3
On a Saturday marred by wet weather, most games across the West Gippsland Cricket Association were abandoned.
PREMIER
Only Clyde's clash with Cardinia was completed, with the contest reduced to 35 overs per side.
Batting first, Clyde was dismissed for 146 with – once again – a host of batsmen making starts but falling at inopportune times, often due to rash shots.
Seven Cougars batsmen reached double figures, but only quick bowler Nick Sadler's invaluable 45-run cameo made any lasting impact, while Travis Wheller (3/16) and Matt Welsh (3/20) were the pick of the Bulls bowlers.
Cardinia opener, skipper Alex Nooy, scored a quickfire 39 runs, before falling with his side still on just 3/47.
AJ Walker also made a start, before falling to Shane White, but it was Wheller (48) who capped off his strong bowling effort with an elegant knock with the bat and essentially steered his side home.
The Bulls (7/150) ultimately won by three wickets in the 32nd over – a result against a fellow finals aspirant that could prove crucial in shaping the eventual make-up of the top four.
DISTRICT
Cranbourne Meadows remain undefeated after proving to be too strong for the Bullants at Officer.
Officer was sent into bat and contributions from Ash Smith (42), Peter Symons (26) and James Parnall (23 not out) helped the Bullants post a total of 5/136 in 27 overs. Ashish Uppal (2/26) bowled well for the Rebels.
Rebel opener Veerpartap Singh (47) guided his team's innings and was well supported by Kulith Rabel (25) as Cranbourne Meadows chased down the required runs in 26 overs.
Cardinia claimed a home win against Clyde.
Clyde's Warwick Weir (36 not out), Joel Avard (27) and Daniel Walton (26) kept the scoreboard ticking over, but Cardinia's bowling attack of Daniel Salvato (2/16), Josh Grogan (2/25) and Matt Thompson (2/40) all claimed key wickets as the Cougars posted a total of 6/134 off 35 overs. In reply, Cardinia's openers got off to a great start as Brad Remy (50) and Dwayne Doig (32) combined for an opening stand of 87. Despite the best efforts of Dean Williams (3/34), the Bulls chased down the total in 28 overs for the loss of seven wickets.
Carlisle Park and NNG/Maryknoll was washed out, as was Tooradin and Emerald's encounter.
SUB-DISTRICT
Merinda Park defended a modest total against Kooweerup to claim the points at Donnelly Reserve.
At 3/6, the Cobras were in deep trouble, but solid contributions from Paul Wiles (32) and Amreek Mann (24 not out) ensured a disastrous total was avoided. Eventually, Merinda Park was dismissed for 121 in 28 overs as Jai Lewis (3/14), Arie Hazendonk (2/19) and Ron Bright Jr (2/21) bowled consistently for the Demons.
The Cobras bowlers were simply superb as the Demons top-order faltered and found themselves at 4/20. Merinda Park's Agyapal Sidhu (4/12) and Amreek Mann (4/17) combined to rip through Kooweerup's batting line-up. Kooweerup was dismissed for 89 in 30 overs.
Amreek Mann was the match-winner, contributing greatly with the bat and ball.
Matches between Lang Lang and Gembrook, Pakenham Upper/Toomuc and Nyora, and Pakenham and Catani were all abandoned.
On Saturday morning, just before the weekend's rain-affected round, the WGCA issued a statement on its website – in part saying: "Before any more people start complaining & blaming the Board for not calling this week's matches off due to wet weather, try reading the rules. All the current rules & by-laws are available on the website for everyone to see".
The statement went on to read: "The Board can call rounds off, yes, but only after all the clubs have contacted the league & advised of their local conditions before 11am. If clubs fail to do this, then the Board cannot make the call.
"The WGCA is one of the largest geographical associations around & weather conditions can be drastically different across the area the association covers, so without the cooperation of the clubs, such decisions are virtually impossible to make".