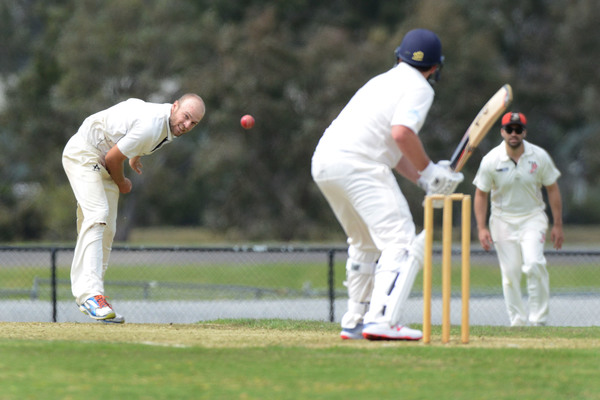 By Nick Creely
DDCA TURF 1 AND 2
REVIEW – ROUND 4 (DAY 1)
Crafting a century takes skill, application, as well as physical and mental fitness.
Yet DDCA legend Steven Spoljaric, the five time Wookey medalist and Ryder medal winner makes them look so easy, as if he hasn't even broken a sweat.
His 18th in the association (122) in just 97 games came on Saturday for Springvale South in Round 4 of the Turf 1 season, against a highly quality Hallam Kalora Park bowling group, helping set up an imposing 312 for the Hawks at Frawley Road.
It was very much a classic Spoljaric knock – pushing singles early, being patient and then accelerating like no other player in the competition.
After Michael Vandort was trapped LBW in the opening exchanges after some quality new ball bowling by Jordan Hammond, Spoljaric strode to the middle with his usual calmness.
As he normally does, aggressive opener Nathan King (39) took to the bowlers, allowing Spoljaric to work his way into the innings superbly.
A double strike by Steven Gilmour (2/19) had the Bloods reeling at 3/61, but Spoljaric continued to play his way, constructing partnerships with Tim Ford (16) and Malinga Bandara (52) before going on and reaching the three figures in aggressive fashion.
Ironically, Spoljaric was run out on 122. In reality, it was the only way to nab his prized scalp.
Down at Park Oval, Buckley Ridges flexed their muscles and inflicted North Dandenong with misery, wrapping up first innings points as they now eye an outright.
Winning the toss and batting proved to be the fateful call for skipper Asfan Thajudeen, with the Maroons succumbing to the new ball skill by Jurgen Andersen (5/29) and Daniel Watson (3/15), with the visitors rolled for just 51.
Watson and Andersen bowled with great skill and pace, completely blanketing an in-form batting side.
Captain-coach David White lost his wicket early, but the fireworks of Watson (34 off 22 balls) saw the Bucks quickly surpass the Maroons and build an impenetrable lead.
Cameos by Troy Aust (55 not out) and fireworks by Ben Watson (54 not out off 21 balls) lifted the score to 6/205, before leaving the Maroons reeling at 2/38 at stumps.
Star all-rounder Kaushalya Weeeraratne, meanwhile, had a day to remember as HSD flattened Berwick at Reedy.
The highly fancied Bears were skittled for 106 in the 36th over after being sent in, with Weeraratne snaring 5/23.
Prized scalp Nathan Pilon was back in the sheds early, and his departure brought about a middle order collapse, with skipper Matt Chasemore also struggling to get going despite reaching 20.
The confidence seeped through with the bat as Weeraratne clubbed a stunning 109 not out, with the Cobras 4/190 at stumps.
Reigning Wookey winner Michael Davies is 40 not out at stumps, with three sixes and four boundaries next to his name.
And Mordialloc's (166) struggles continued despite a blazing 91 to new recruit, former international Nuwan Kulasekera, with St Mary's 1/26 and in a comfortable position to snare a victory at Carroll Reserve.
Mammoth centuries, meanwhile, to a Narre South newcomer and Dingley star headlined an action packed day across Turf 2 on Saturday.
Down at Sweeney Reserve, with Narre Warren taking on the Lions, Jonty Jenner – the 20-year-old Jersey star who has played a recent first-class game with Sussex – put on an absolute clinic, sending the ball to all parts of the ground in a dynamic 146.
Jenner's innings took just 122 balls and just under three hours, hitting 17 fours and six sixes – including a range of stunning reverse sweep sixes.
Morteza Ali (66) and Joe Thomas (26) put on 88 for the first wicket, and the Magpies simply couldn't keep up, with Ashan Wijayakumara (58) playing a strong hand in a partnership of almost 200 with Jenner.
The Magpies showed some fight – particularly through the efforts of Janaka Liyanabadalge (4/75) and Callum Spencer (3/66) – to stem the bleeding somewhat, but Scott Phillips' side reached 9/350 before declaring with eight overs to spare.
Opening batsman Bevan Radhakrishnan fell just one ball before stumps, with the Magpies 1/9 at the end of the day, and will need to do a lot right to get close to their target when play resumes on Saturday.
Gun Dingley all-rounder Matthew Hague, meanwhile, also had a day out with the blade against St Brigid's/St Louis.
Hague carved up the home side in a breathtaking 179 off 224 balls, guiding the Dingoes to a strong 9/316 at stumps.
Battling to find form after 65 runs in his first four digs, Hague's class and hunger for runs shone brightest, forming strong partnerships throughout the innings.
Hague sent the ball flying over the ropes for eight sixes and 18 fours, returning to the trademark form that saw him amass 507 Turf 1 runs two years ago. Luke Spears (37) was also in the runs for the Dingoes.
And Narre North is in a strong position against Parkmore Pirates at Frederick Wachter Reserve.
The Pirates were sent in to face the music, and lost a bunch of early wickets to be in some trouble early.
Captain-coach Anurudhdha Foneska (61) was the only Pirate to get some momentum with the bat, playing a virtual lone hand in the middle order to salvage something against the reigning Turf 2 premiers, helping guide the side to 135, but in only 35 overs.
Ryan Hendy (3/39), Joel Zietsman (2/39), Nathan Wilson (2/11) and Josh Henry (2/26) were all in the wickets for the Rams, as they build on what has been a slowish start to their title defence.
The Rams clawed their way to 2/76 at stumps, with Marshall Gray (26) and Kyle Hardy (10) set to resume in the middle on Saturday.
The match between Dandenong West and Cranbourne will be played this Saturday and Sunday.