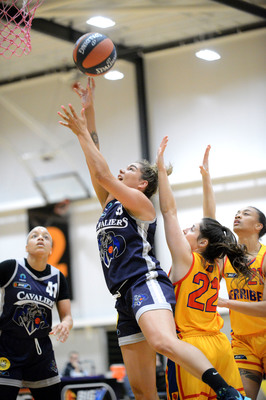 By Hayley Wildes
It was a busy weekend of Big V basketball action for the Casey Cavaliers, with the Championship continuing on their winning ways with a brutal beat down of Chelsea at home on Saturday night.
The Cavs were a class above the Gulls as Raheem Lemons (22 points, 14 rebounds and 3 assists) made his presence known from the opening tip with another tremendous performance, while Brent Hobba (20 points and 5 rebounds) connected on 5/8 triples.
Casey eventually ran out 23-point winners, 92-69. Having won four in a row, the Cavs remain second on the ladder with an 11-2 record.
Earlier in the evening, the Championship women's struggles continued as they couldn't contain Werribee's hot shooting.
Sarah Halejian (27 points, 4 assists, 3 rebounds and 3 steals) and Tanarly Hood (18 points, 5 assists, 5 rebounds and 5 steals) did all they could to keep Casey in the contest, but it wasn't enough as the Devils ran out 81-72 winners.
The Cavs slump to 4-6 on the season and sit seventh on the ladder.
Kickstarting the triple-header at Casey Stadium on Saturday night were the Youth League 1 men, who suffered a close, hard-fought loss to Frankston.
Casey held a lead at the final break, but Frankston came storming home in the fourth to come away with a 76-70 win. Luke Beard (16 points) top-scored for the Cavs, while Brendon Head (14 points, 9 rebounds and 3 assists) did it all in a strong outing.
The Cavs find themselves in a form slump, having won just two of their last five games, but still sit third on the ladder with a 9-4 record.
The Youth League 1 women have been in tremendous form all season, and despite having moved up a division, have already proven themselves as a championship threat.
In two games over the weekend, the Cavs made light work of Warrandyte on the road on Saturday night, before backing up at home on Sunday against Camberwell.
Lauren Tuplin was simply unstoppable as she took over the game with 30 points, 6 rebounds, 5 assists and 2 steals, while Steph Leclerc (9 assists, 8 points, 7 rebounds, 5 steals and 2 blocks) was at her defensive best.
The Cavs took care of the Venom by 18 points, 88-70.
The next day, Casey had a tight battle with Camberwell but got the job done in a low-scoring slog, 61-52.
Kim Shankland (13 points and 7 rebounds) led the way for the Cavs, while Bec Peacock (10 points, 5 rebounds and 5 steals) and Leclerc (8 points, 8 rebounds and 4 steals) did a bit of everything in the win.
With seven wins on the trot, Casey sits on top of the ladder with a 10-2 record.
Round 11 Big V action includes a Saturday night double-header at Casey Stadium which tips off at 6pm with both Youth League teams battling it out. Also on Saturday night, the Championship women head to Whittlesea to face the Pacers.
The Championship men return to action on Sunday on the road against Hawthorn, while the Youth League 1 men take on Warrandyte.