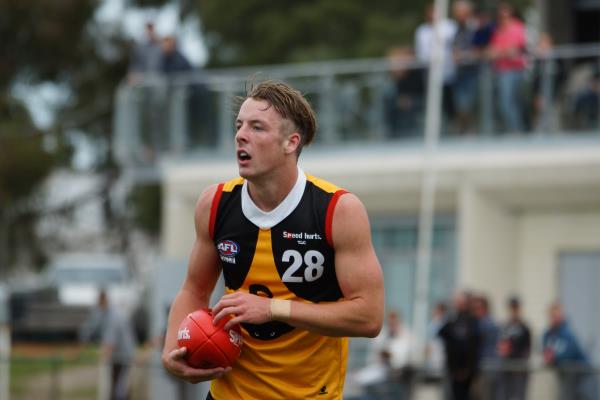 By Tyler Lewis
"My main goal is to go back and enjoy my footy."
For Kurt Mutimer the equation is simple – enjoy footy first and the rest will take care of itself.
The recently delisted West Coast Eagle has signed with the Casey Demons for season 2020.
The door opening at Casey ultimately came at the conclusion of his time in the blue and gold, albeit a difficult situation, it was one Mutimer saw coming when the Eagles landed its big name recruit.
"I saw it coming, sitting down with Adam Simpson throughout the year; he said 'It is do or die this year'," he said.
"He just pretty much laid it down to me and I certainly knew it was coming, especially when Tim Kelly requested a trade to West Coast, it wasn't a shock when I got delisted, I guess I knew my time was up at West Coast when Kelly came.
"I don't think it was the fact the midfield and backline I was trying to break into was really strong at the time and no one was getting injured and they were all playing pretty well, I guess that is the way AFL goes sometimes.
"It has been pretty tough, I have been playing predominantly in the back-line in the twos, sort of struggled to find form, good enough form to break into the West Coast team, and they have a good backline.
"I struggled to put some form together, it wasn't until the back end of this year that I asked to be put back in the midfield and I started to put a few good games together.
"Unfortunately I ran out of time to put my hand up and get a senior game again, it was a little frustrating for two years, but I look back on it and I learned a lot about myself and the way I had to try go about myself at West Coast, I guess I can put that as a positive in terms of my footy journey so far."
While the words of his senior coach were ringing through his ears, the 22-year-old looks back on his experience in Perth as a great learning curve for himself as a person.
"When he first told me it was do-or-die, it was a wakeup call," he said.
"The first couple of weeks it was replaying through my head during training and even games. I had to forget about that do or die stuff and just play footy.
"When footy wasn't going my way, when I was working hard off the field, training in the gym, game plan, coming out game day and things weren't going my way, especially when I was down in the backline, it made me learn about the small things about footy.
"It was going back to why we do play, to enjoy my footy – I had to realise why I played footy and that is because I enjoyed playing it, I had to go back to the basics and I learned a lot about myself in that aspect."
Mutimer was drafted in at pick 57 in the 2015 National Draft, and after being delisted he has drawn inspiration to how he wants to be in 2020 from a fellow draftee from 2015 that was delisted from the Eagles 12 months earlier.
"Listening to Luke Partington, he obviously got delisted a year ago, he went back into the SANFL and he enjoyed his footy, I think that is why he thought he was playing really well," he said.
"This year going to Casey, obviously I have to work hard, but I want to enjoy my footy, I think that is when I will play my best footy.
"Talking to Sammy Radford (Demons coach), he said 'Look mate you will be playing midfield this year'.
"He (Radford) wants me to work hard but he also wants me to enjoy my footy and knows that is when I am going to play my best – and also when I play my best that increases my chances of that AFL interest.
"The main reason I went to Casey is because they are aligned with Melbourne and talking to Sammy, he said 'We are going to have Melbourne recruiters down to every game we play so they are watching us every week'.
"I felt like in terms of getting back into the system, they are the best club to be at – it was an easy decision."
Being a Narre Warren local, Mutimer is looking forward to showing his face back at the nest, not only to watch his younger brothers play, but share some of the winning culture that has been built by his family who wear the black and white stripes.
"It definitely had an input into my decision, obviously being at West Coast, on the other side of the country for four years, it was very different and I wanted to go back to Melbourne and be closer to my friends and family," he said.
"With Casey just around the corner from where I live, it was a pretty easy decision to choose who to play for.
"From the sounds of it and the way they (Narre Warren) won the flag this year, it sounds the culture is doing pretty well, it sounds like it is a winning culture.
"I am definitely looking forward to being closer; I have two younger brothers who are coming through with Narre this year at the senior club.
"(I'm) looking forward to spending more time around the club and catching up with players I used to play with at Narre and spending a whole lot of time with friends and family."