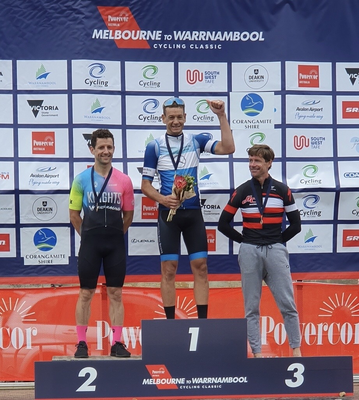 By Nick Creely
Berwick local Adrian Little enjoys the challenging and gruelling nature of racing.
And, not letting anything get in his way, Adrian's steady progression in the world of road cycling is something to marvel at.
At the recent 262-kilometre Melbourne to Warrnambool Cycling Classic on 15 February – one of the most iconic sporting events in Victoria and the second oldest one day cycling event in the world – Adrian shone, winning the A Grade event with an impressive time of 6:25:48, and with a phenomenal average speed of 40.8 kilometres per hour.
Adrian told the Star News that he was extremely humbled to be able to stand up on the podium in one of the most iconic races in the country, and explained that his grounding in the sport held him in good stead for the challenges that awaited.
"It was one of those races that is prestigious in Melbourne and in Australia – they say it's the oldest running race in Australia," he said.
"The longer distance kind of interested me. I've done a lot of Ironman in the past – I'd done it the year before, and won B Grade, and this year I wanted to get up into the best guys in Australia.
"I wanted to just do my best, and I was lucky enough to come away with a win – coming into the race, the forecast wasn't great, there were really big head winds, which isn't good for a really long race, so I was pretty hesitant not knowing how it'd pan out.
"I was lucky to be in the right spots, there were a lot of crashes and stuff like that, so I stayed near the front – there was a group that got away which was the national and elite guys, and then there was our group. There was a big sprint finish, about a kilometre from the finish."
Just as important as the physical is the mental side in such a demanding sport, something Adrian is fully aware of, and an aspect of his preparation he needed to plan for.
"As you go up and grades, the closer it gets – if you're in C Grade or B Grade there's a bit of distance, but as you go up to A Grade and the elite, the bars are almost touching, the elbows are touching, the wheels are touching, so there's no room for movement at all," he said.
"You can't really move your head, because if you do, if you veer off, and your wheel crashes into someone else's, it can cause all the crashes, so there's a certain mental stage you have to be in for that.
"It's six-and-a-half hours of being in the right position, it's pretty stressful – once one person goes down, 20 people go down."
With an extremely strong background in sport and in long-distance racing, Adrian has truly excelled since focusing a lot of his energy on road cycling.
"I played a lot of football, and that went to triathlons, and then triathlons went to cycling, so it's only really been the last three or so years of full on road cycling," he said.
"I was lucky enough to win a few races over the last few years – it's just slowly going up and up which is good. I'm getting a bit older, so I'm enjoying the challenge of racing the younger guys."
And after a strong win, and with an even brighter future in the sport, Adrian said it wouldn't be possible without the support of a local business who are sponsoring a small group of riders to compete in local and state races.
"Craig down at Mercedes Berwick was phenomenal, and he's really looked after the local guys – for someone to be local, and not get anything out of it, is incredible," he said.
"They were amazing – I sent them a letter and told them what we're trying to do, we're a local team and needed support, and they've given it to us."