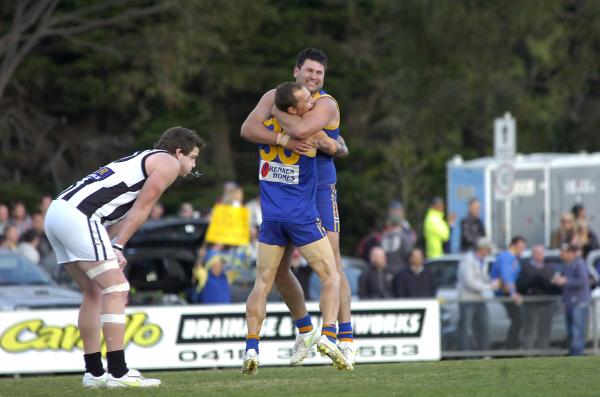 By Nick Creely
It's a modern day rivalry that is almost certain to resurface itself on the biggest stage of them all again in the coming years, such is the pride embedded within both footballing communities.
Two big towns with proud histories and an unquenching thirst for success – Narre Warren and Cranbourne, and the passion of both footballing communities, epitomises all there is to love about local football.
For those lucky enough to witness the quality of football played between the two powerhouse clubs in a stunning wave of success and epic games in front of monster crowds between 2010 and 2014, they will readily say it was some of the finest spectacles on the local scene they've seen.
And it's hard to argue with the quality of names and star power strutting their stuff each week.
But there was another layer to the rivalry besides just the on-field deeds and star power glittered across the park – mutual respect and an uncompromising competitiveness.
It was a will to win at all costs attitude, and with the drive of past losses and premierships at the forefront, it made for some riveting matches of football.
Across three consecutive grand finals between 2011 and 2013 – all equally unique, yet brilliant – the two powerhouse clubs ruled the roost in the south-east across a dominant period of football.
As former Star News sports editor Dave Nagel said of the time, it was almost an unparalleled period of footy between two powerful football sides.
"You had this champion Narre Warren side which won 2006, '07 and '08, and Cranbourne, which was down near the bottom but gradually building, and everyone knew they were going to challenge Narre at some stage," he said.
"The footy was fantastic – some of the games the clubs played were just classics."
From the incredible deeds of the legendary Marc Holt and astute coach Doug Koop, the Eagles broke a 16-year premiership drought in an absorbing contest in the first of three grand finals in 2011, but the champion Magpies unit – led strongly by Chris Toner and Michael Collins – got the chocolates in two incredible grand finals in 2012 and 2013, ending the three-year period with a 2-1 record.
But there's almost a sense of inevitability that it's more of a 'when' rather than an 'if' these two clubs will renew hostilities on the biggest stage of them all in the coming years.
And when the time comes for the powerhouse clubs to once again meet off for a premiership, the memories – still so fresh for both clubs – will undoubtedly make for more phenomenal spectacles.
For the full story behind the incredible modern-day rivalry, pick up a copy of this week's Pakenham-Berwick Gazette.