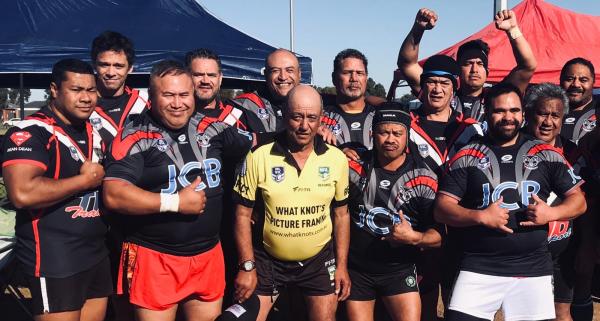 By Lance Jenkinson
The Casey Warriors are hopeful of brighter days ahead with Victoria slowly emerging from months of Covid lockdown.
The Warriors took a big hit over winter, with a number of sponsors pulling the plug due to their own financial stresses.
Warriors president Numa Daniel has a big task of re-connecting with all key stakeholders in the coming months to ensure the club emerges from the height of the pandemic on a solid footing.
"We've got to keep moving forward," he said.
"We'll start putting a few things together now and see what the plans are going forward."
Good people make clubs like the Casey Warriors, so the first port of call will be to get every member back on board and reignite that passion for the game in 2021.
That can only happen when the Warriors have a Covid-safe plan, something that will need to be in place before preseason can start.
"We're not allowed down there [Clyde Recreation Reserve] until we put in a proposal of what our plans are with Covid rules," Daniel said.
"We'll work with the council and work out a plan within those Covid laws.
"We can set up some kind of system to get on the track straight away and start training and do player registrations and all that."
It has been a successful era for the Casey Warriors.
The senior men's team is often in the discussion at the pointy end of the NRL Victoria first grade season.
They were champions in 2015 and runners up in 2014, '16 and '17.
Junior numbers have swelled in recent seasons and some elite Warriors talent has found its way on to NRL rosters.
When Covid-19 struck and wiped out the NRL Victoria season, it left the Warriors to wonder what might have been for 2020.
To rub further salt into the wounds, there could be another blow for rugby league in Victoria on the horizon with word out of league headquarters that funding from the NRL could be cut for representative team, the Victorian Thunderbolts.
If the Thunderbolts are removed, it will hurt the pathway for elite young rugby league players in the state.
"They need to keep the funding going towards that," Daniel said.
"All the local talent born and bred here in Melbourne might be looking somewhere interstate if not, and that makes it hard because their families are still here and they would have to move away.
"We had a couple of players that had left and got quite homesick and ended up coming back because the family was not there to push them and support them."
Casey is proud of its standout players who have gone to the next level.
The Warriors had players in the youth systems of the Brisbane Broncos, Canberra Raiders and Canterbury Bulldogs.
"They're in the Reserve grade, hopefully pushing towards the senior ranks," Daniel said.
"It's always a plan from when we get them at a young age to develop them so they can push their way to NRL if they're serious."
Daniel has called on the NRL to back elite player development programs in Victoria.
Originally from Sydney, Daniel feels as though there is an 'us against them' mentality when it comes to rugby league down south.
"We're like foreigners to them," he said with a laugh.
"That's the way it is up there.
"Maybe with Melbourne Storm having been dominant, it's just a bit of jealousy.
"They should be looking to grow the game here."