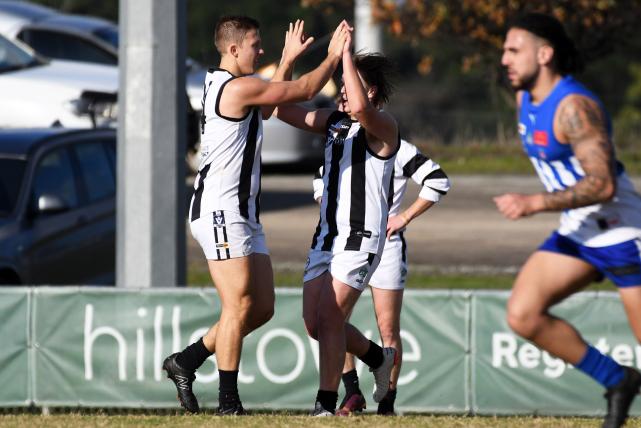 By Tyler Lewis
For Shane Dwyer, the message to his Narre Warren outfit after its 37-goal obliteration of Officer was simple:
'There's no point gloating.'
The Magpies and Roos are heading in polar opposite trajectories and it was shown in black and white on Saturday when the Pies kicked 19 majors in both the first and second half.
Trent Cody booted seven, as did Peter Gentile – while they were supported with five apiece from Jake Richardson and Will Howe.
The four with five or more were far from greedy however, as the Maggies finished with a whopping 14 individual goal-kickers.
With a score line that questions what either clubs really achieve from of it; Dwyer revealed he gave his side a checklist of goals distant from the scoreboard.
"We went in with one major focus, which was team footy," he said.
"You go into those games thinking you're going to win, but you don't expect to win like that.
"We had certain things in place that we wanted to play towards and they (his players) did, they were very good.
"What we asked for before the game, they carried out, that was what was most pleasing for me."
In a day full of positives on field, Dwyer was most pleased with his group's unselfishness around goal.
"Probably the second half because they didn't get greedy," he said.
"When you're up by whatever we were at half-time, you can probably expect them to go off and run their own race, but they didn't.
"You had your full-forward giving the ball off inside 20 metres and everyone was on the same page – the second half when you get to junk time, they didn't go down that path."
After reiterating his side shouldn't feel the urge to gloat after the victory, Dwyer insisted his group get around the 'fellow SEFNL club' post-game.
"I made it pretty clear how much they're struggling," he said.
"I spoke to Troy (Tharle) after the game and I got the run down, so I congratulated them (his unit) on how we used the footy and played the style we wanted to play to, but it was more make we sure we get in and have a beer.
"They're a fellow SEFNL club, so just go about business as normal, there's no point gloating, because the next three weeks for us are pretty big."
The next patch of footy is an important one for Dwyer's Pies, with Pakenham, Monbulk and Wandin (away) to contend with before their next bye.
In other results across the Premier Division competition, Pakenham fell to Monbulk 8.3 (51) to 9.16 (70); the aforementioned Woori Yallock and Wandin sides both registered wins, the Tigers over Mt Evelyn 16.26 (122) to 9.8 (62) and the Bulldogs 12.15 (87) to 9.16 (70) over Olinda Ferny Creek.
In another difficult day for the Rovers, it was highlighted by an enormous mark from Callum Urquhart, who has been known to take a big grab.
In Division 1, Gembrook Cockatoo closed the gap on the top two with a sensational win over Emerald.
The Brookers fell short by less than a kick back in the Anzac Day round, but were on the right side of the close encounter this time around.
After both sides kicked just three goals collectively in the first term, the game opened right up, with both sides with 15 and 14 goals apiece.
The Brookers trailed at every huddle, but managed to booth six goals to three in the final term to storm home to the 15.11 (101) to 14.10 (94) victory.
Myles Wareham continued his terrific form, booting another six majors to leap both Max Donegan (Healesville) and Nathan O'Keefe (Seville) to the top of the leagues goal-kicking charts.
The win leaves the Brookers just two points adrift of Emerald in second place.
Seville, meanwhile, shook off a slow start against Yarra Glen to carry out its ninth consecutive win.
The Blues gifted the home side a four-goal head start, before shifting back into gear to carry out the 14.11 (95) to 10.12 (72) triumph.
While it suffered another defeat, Belgrave showed a lot of fight in its clash with Healesville.
The last time the two sides met, the Bloods kicked 17 goals to two and conceded 11 goals from Donegan alone.
But in this encounter, the Magpies were brave in defeat, going down 12.10 (82) to 14.15 (99).
While win-less, if the Magpies can carry that performance into this week's clash with the second-last placed Yarra Glen side, Belgrave is every chance to get off the mark.
With the Queen's Birthday weekend bye, followed by the regulation bye, it's been a long lay-off for Berwick Springs, but the Titans will be back at home this weekend to host Emerald.