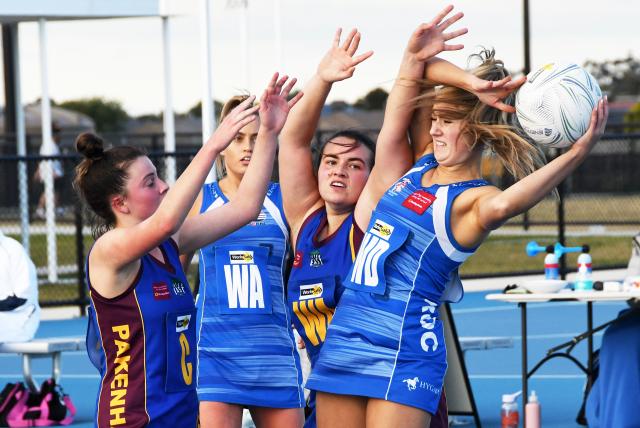 By David Nagel
ROC has consolidated fourth place on the Outer East Premier Division ladder with a commanding 50-31 victory over its nearest-neighbour Pakenham at James Bathe Reserve on Saturday.
A really tight contest was expected after the Kangaroos fell in by a single goal against the Lions in round two, but the Roos asserted their dominance in the second term to race away with the four points.
The Kangas led 11-8 after a competitive first term, but kicked clear with a 13-6 performance in the second quarter. The Lions rallied in the third, but the Roos finished on a high with 15 goals to nine to back up last week's win over Upwey Tecoma.
Sarah Castricum was unstoppable for the Roos, scoring 28 goals, while Isabella O'Shanassy, Ciara Nelson and Olivia Hamilton were also at the peak of their powers.
The Lions hit a purple-patch of form between rounds five to eight, winning four games on the trot, but have now lost their last three.
But all is not lost for the Lions, with Hayley Poulton, Emma Jones and Bec Langford to take some good form into this week's home clash against Olinda Ferny Creek.
Narre Warren continues to set a hot pace at the top-of-the-table with the Magpies remaining undefeated after a 52-40 victory over fifth-placed Monbulk.
The Hawks matched motors with the Magpies in the first term, trailing 13-14, with Nicole Macdowell, Paige Whitworth and Steph Puopolo providing plenty of chances for Tarnee Adams under the ring.
But the Magpies gradually wore down a game opponent, with Erin Bell once again proving the difference with 36 goals for the match.
Chelsea Tonna and Jemma Osborne also contributed to the scoreboard, while the drive of Britt Mashado and Corrina Emery was an important factor in the Magpies eleventh straight win for the season.
Beaconsfield and Mt Evelyn staged a great battle at Holm Park Reserve with the Rovers prevailing 36-30 after a stirring last-quarter effort.
The Eagles only win for the season came against the Rovers in round two, and the home side started strongly.
With Zara Treweek, Milli Utber and Gabby Stinear in terrific form, the Eagles led 10-5 at quarter time and maintained a two-goal advantage at the half.
But the Rovers hit back with a 10-6 third term before powering away with an 11-7 last-quarter surge.
The Rovers enjoyed their first win since round six on the back of great performances from Rory Barr, Steph Crilly and Jacqui Black.
And Olinda Ferny Creek remains in second place on the ladder after a resounding 67-37 win over Upwey Tecoma.
The game was never in question after the home side bounced out of the blocks with a 21-9 first quarter.
Hayley Howard was at her dominant best, shooting 58 goals for the winners, while Bronwyn Simpson and Georgia Martin were also at their brilliant best.
Molly Argoon and Charlotte Davis were the Tigers' best performers.
Unfortunately the last game of round 11 was a walkover, with Woori Yallock forfeiting against Wandin.
DIVISION ONE
The almost inevitable clash between Seville and Berwick for this year's Outer East Division One title looks even more certain after both teams held off some strong challengers on the weekend.
Seville headed to Emerald to take on the third-placed Bombers who really took the game to the Blues in the first quarter.
Scores were locked at 8-8 at quarter time before the undefeated Blues produced a rampage heading to half time.
With Luiza Sulemani and Ella Bayliss in great form around the court, the Blues piled on 15-7 in the second term to take control of the match.
Hayley Ray (20 goals), Ellie Dowling (19) and Ella Morse (10) then made sure there were no nasty surprises after half time.
The Bombers were brave, particularly early, with Kara Ellis, Jammy Scott and Suria Loulanting leading the way against the ladder leaders.
Berwick continues to play an attractive brand of netball with the Wickers in great touch in their 56-23 win over Belgrave.
The Wickers have star quality all over the court and they all clicked in a blistering 19-6 first quarter performance.
Amy Bidwell and Kyla Quinn were at their devastating best, while Emily Pupuke, Emma Clarke and Brooke Abu-Jaber made sharp-shooting look easy under the ring.
Annaliese Carroll and Amy Robinson were best for Belgrave.
And Yarra Glenn remain in fourth position after a 50-27 victory over Berwick Springs.
Lara Ward-Collins (26 goals) and Steph Gibbs (24) were unstoppable for the winners while Jessie Hare, Laura Walker and Chloe Maas battled hard for the Springs.
The stage is set for a massive contest this Saturday when Berwick hosts Seville at Edwin Flack Reserve…the action begins at 3pm.
OUTER EAST NETBALL SCOREBOARD
PREMIER DIVISION
A GRADE: Narre Warren 52 v Monbulk 40, Pakenham 31 v ROC 50, Woori Yallock (Forfeit) v Wandin, Olinda Ferny Creek 67 v Upwey Tecoma 37, Beaconsfield 30 v Mt Evelyn 36.
B GRADE: Narre Warren 34 v Monbulk 36, Pakenham 32 v ROC 53, Healesville 20 v Wandin 60, Olinda Ferny Creek 39 v Upwey Tecoma 32, Beaconsfield 30 v Mt Evelyn 40.
C GRADE: Narre Warren 44 v Monbulk 17, Pakenham 32 v ROC 44, Woori Yallock 12 v Wandin 38, Olinda Ferny Creek 42 v Upwey Tecoma 21, Beaconsfield 14 v Mt Evelyn 33.
D GRADE: Pakenham 21 v ROC 38, Healesville 10 v Wandin 32, Olinda Ferny Creek 25 v Upwey Tecoma 22, Beaconsfield 19 v Mt Evelyn 27. Narre Warren – Bye.
DIVISION ONE
A GRADE: Emerald 33 v Seville 49, Yarra Glen 50 v Berwick Springs 27, Belgrave 23 v Berwick 56. Gembrook-Cockatoo – Bye.
B GRADE: Emerald 27 v Seville 70, Yarra Glen 74 v Berwick Springs 20, Belgrave 31 v Berwick 73. Gembrook-Cockatoo – Bye.
C GRADE: Emerald 41 v Seville 43, Yarra Glen 49 v Berwick Springs 33, Belgrave 14 v Berwick 14. Gembrook-Cockatoo – Bye.
D GRADE: Emerald 26 v Seville 33, Yarra Glen 28 v Berwick Springs 25, Belgrave 13 v Berwick 30. Gembrook-Cockatoo – Bye.
JUNIORS
17U WHITE: Beaconsfield 17 v Cranbourne 15, Narre Warren 47 v Gembrook-Cockatoo 5, ROC 15 v Berwick 47. Pakenham – Bye.
17U BLUE: Olinda Ferny Creek 23 v Berwick 37, Pakenham 19 v ROC 18, Healesville 9 v Wandin 41, Narre Warren 24 v Seville 22. Beaconsfield – Bye.
15U WHITE: Beaconsfield 34 v Berwick 11, Narre Warren 69 v Gembrook-Cockatoo 0, Pakenham 14 v ROC 44.
15U BLUE: Beaconsfield 17 v Cranbourne 21, Narre Warren 40 v Berwick 13, Pakenham 25 v ROC 31.
13U WHITE: Beaconsfield 18 v Cranbourne 16, Pakenham 17 v ROC 27. Berwick and Gembrook-Cockatoo – Byes.
13U BLUE: Narre Warren 7 v Berwick 30, Pakenham 16 v ROC 35. Beaconsfield – Bye.
PREMIER – A GRADE W L D F A % PTS
Narre Warren 11 0 0 599 355 168.73 44
Olinda Ferny Creek 8 2 1 577 422 136.73 34
Wandin 8 3 0 470 417 112.71 32
ROC 7 3 1 425 441 96.37 30
Monbulk 5 5 1 470 472 99.58 22
Pakenham 4 7 0 409 445 91.91 16
Mt Evelyn 4 7 0 351 434 80.88 16
Woori Yallock 3 8 0 470 525 89.52 12
Upwey Tecoma 2 9 0 446 535 83.36 8
Beaconsfield 1 9 1 332 503 66.00 6
PREMIER – B GRADE W L D F A % PTS
Narre Warren 10 1 0 635 367 173.02 40
Monbulk 10 1 0 466 352 132.39 40
Olinda Ferny Creek 8 3 0 475 371 128.03 32
ROC 7 3 1 518 390 132.82 30
Mt Evelyn 6 4 1 429 375 114.40 26
Wandin 6 5 0 455 396 114.90 24
Pakenham 4 7 0 437 454 96.26 16
Beaconsfield 2 9 0 370 497 74.45 8
Upwey Tecoma 1 10 0 429 498 86.14 4
Healesville 0 12 0 233 705 33.05 0
PREMIER – C GRADE W L D F A % PTS
Narre Warren 11 0 0 495 233 212.45 44
Olinda Ferny Creek 10 1 0 506 261 193.87 40
Mt Evelyn 8 3 0 358 261 137.16 32
Wandin 6 5 0 353 276 127.90 24
Pakenham 6 5 0 333 310 107.42 24
Upwey Tecoma 5 6 0 327 332 98.49 20
ROC 4 7 0 304 343 88.63 16
Monbulk 3 8 0 233 406 57.39 12
Beaconsfield 2 9 0 224 307 72.96 8
Woori Yallock 0 11 0 133 537 24.77 0
PREMIER – D GRADE W L D BYE F A MR
ROC 8 1 0 2 315 167 88.88
Olinda Ferny Creek 8 1 0 2 299 197 88.88
Narre Warren 7 2 0 2 250 142 77.77
Pakenham 6 4 0 1 277 217 60.00
Upwey Tecoma 3 6 0 2 184 231 33.33
Wandin 3 6 0 2 171 255 33.33
Mt Evelyn 3 7 0 1 193 212 30.00
Beaconsfield 2 7 0 2 162 240 22.22
Healesville 0 11 0 1 89 553 0.00
DIV 1 – A GRADE W L D B F A MR
Seville 11 0 0 1 575 352 100.00
Berwick 10 1 0 1 612 255 90.90
Emerald 6 4 1 1 505 428 59.09
Yarra Glen 5 6 0 1 440 426 45.45
Belgrave 4 7 0 1 387 540 36.36
Gembrook Cockatoo 3 7 1 1 401 493 31.81
Berwick Springs 1 10 0 1 287 544 9.09
DIV 1 – B GRADE W L D B F A MR
Berwick 11 0 0 1 755 249 100.00
Seville 10 1 0 1 640 339 90.90
Yarra Glen 7 4 0 1 535 443 63.63
Belgrave 5 6 0 1 464 473 45.45
Gembrook Cockatoo 4 7 0 1 418 508 36.36
Emerald 3 8 0 1 378 565 27.27
Berwick Springs 1 10 0 1 268 607 9.09
DIV 1 – C GRADE W L D B F A PTS
Seville 11 0 0 1 453 253 48
Berwick 8 1 1 2 329 211 42
Gembrook Cockatoo 6 4 0 2 293 278 32
Belgrave 3 6 1 2 225 261 22
Emerald 4 7 0 1 391 363 20
Yarra Glen 3 7 0 2 280 327 20
Berwick Springs 0 10 0 2 193 471 8
DIV 1 – D GRADE W L D B F A PTS
Berwick 10 0 0 2 315 179 48
Seville 8 2 1 1 322 218 38
Gembrook Cockatoo 5 4 1 2 277 272 30
Berwick Springs 5 5 0 2 230 277 28
Emerald 4 7 0 1 299 285 20
Yarra Glen 3 7 0 2 251 346 20
Belgrave 0 10 0 2 187 304 8