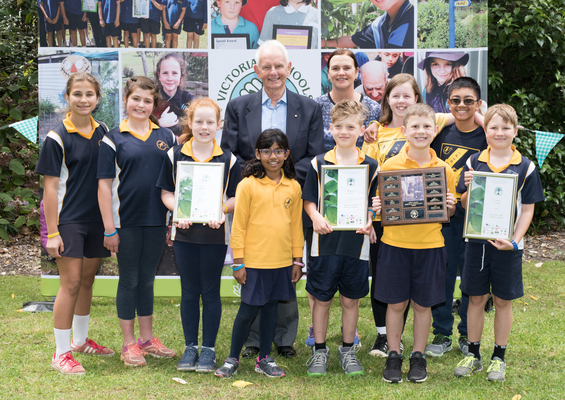 By Jessica Anstice
Berwick Lodge Primary School was awarded the highest accolade for its school gardens on Thursday 15 November, winning the prestigious Kevin Heinze Perpetual Development award at the Victorian Schools Garden Awards.
Berwick Lodge has a beautiful new sensory garden, a community garden and a memorial garden.
The Victorian Schools Garden Awards judges visited the school the week prior to the awards being announced at the Royal Botanical Gardens, Melbourne and were very impressed with how recycled materials had been utilised throughout the school gardens, students' knowledge and passion about the gardens and how the community had been involved in each project from working bees to donating materials.
Nine students attended the awards ceremony including the school captains, the Helmeted Honeyeater ambassadors, and members of the school's garden club who were accompanied by assistant principal Sandra McCrum who was the instigator and leader of the school's garden projects.
"Prior to the awards day we knew we had won a regional award but were thrilled on the day to win a state award and then the top award for all entries, the Kevin Heinze Perpetual Development award for the best gardens within Victoria," Ms McCrum said.
The Perpetual Award is named after Kevin Heinze who was a horticulturalist and a leader of his time and worked with schools to develop gardens.
"It was a great honour to receive such an accolade and one which we are all very proud of achieving."
The award entry was primarily for the schools sensory garden but the judges looked at all the schools gardens.
The Sensory garden is over 1500m² and is a beautiful space which includes a solar powered water feature, a dry creek bed, jetty, musical instruments, dinosaur discovery area, chess/checker board, Helmeted Honey eater garden, art works, wind mill, outdoor classroom, blackboard and interpretive educational signage.
It has over 1000 indigenous plants within the space. The community have assisted at working bees, donating materials and time.
The layout and construction of the garden was built with the assistance of a dad who is a landscaper.
"The garden projects have given students and teachers the opportunity to work and learn within an outdoor environment," Ms McCrum said.
"They bring science to life with hands on learning, grow food, learn about life cycles, investigate biodiversity and explore nature all within the school grounds."