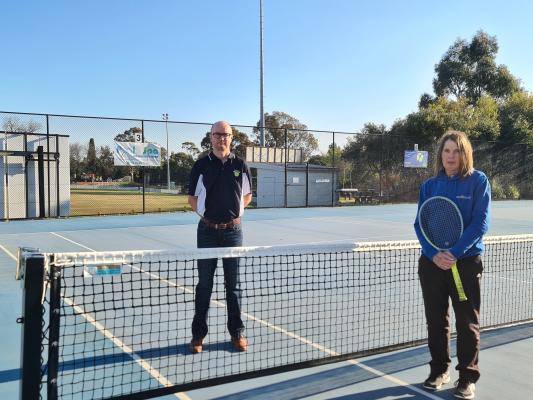 By Danielle Kutchel
Tennis clubs in metropolitan Melbourne can now get back to coaching, as Victoria begins to reopen according to its Covid roadmap.
Under directions posted by the Chief Health Officer on Wednesday 29 September, tennis coaches are now considered personal trainers.
This means tennis coaches can commence group training with two other people if they are not fully vaccinated.
Group coaching can return for five people plus a coach if all are fully vaccinated.
It's a change that Berwick Tennis Club had been calling for.
Club president Craig Kitner, and head coach at Set 4 Tennis, Allison Miller, had argued tennis coaches should be considered personal trainers given the type of work they do.
"We can do the lesson in a Covid-safe environment," Ms Miller explained.
When in close quarters the coach and pupil can wear masks, students can bring their own racquets and if they need to borrow one from the club, it is thoroughly cleaned.
Separate entry and exit points to each court at Berwick Tennis Club mean there is reduced opportunity for mingling amongst students, parents and club staff.
They also said tennis should be reclassified as exercise rather than community sport – especially given those playing the game are usually more spaced out than permitted walkers or cyclists.
Ms Miller said the time was right to get students back on the court.
She said kids had missed out on developing social and fundamental social skills, and would likely fall behind their competitors in other states who had been able to practise throughout the year.
"The majority are desperate to get back on courts. Kids need an outlet so badly and so desperately," she said.
"We offer so much in the care of our clients and members here.
"We want to look after their mental and physical health and wellbeing."
Mr Kitner said adults and seniors were also looking forward to playing tennis again.
He said tennis was a Covid-safe sport, with large court spaces and limited numbers in the area at any one time.
"We're not having outbreaks here at the sports clubs," he said.