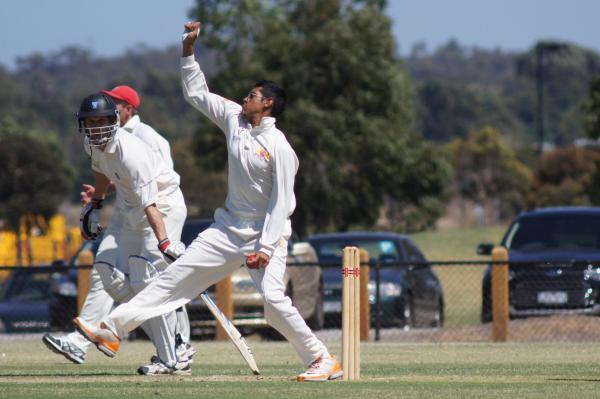 PULLING on Victoria's baggy cap for the first time, Casey-South Melbourne all-rounder Clive Rose ticked the box on a big personal goal.
The 23-year-old from Narre Warren South has been in exceptional form in the last year – winning the 2011/12 Jack Ryder Medal for best player in Victorian Premier Cricket, earning his first appearance for the Melbourne Stars Big Bash team and his proudest achievement of all, playing the four-day game for Victoria.
"It was a great feeling – something I've tried to achieve for the last couple of years, and I didn't really think it would happen this year," Rose said.
"Thought of myself more as a one-day player and I had a role in the one day matches.
"They only told me on the Saturday after the one dayer, and I was pretty excited and couldn't wait really."
Rose grasped his chance with both hands following a season-ending injury to Victorian spinner John Holland.
"At the start of the summer, I knew I had a Big Bash contract and all I wanted to do was play a couple of games for the Stars," Rose said.
"Unfortunately for John Holland, he did his shoulder and was ruled out for the rest of the season and I thought I could play the rest of the one-dayers, if not at least a couple," Rose said.
"Didn't really think about the Shield call up and got the opportunity to experience it."
Given his chance on a spinner's deck at the MCG, Rose bowled in tandem with Pakistani refugee Fawad Ahmed, skittling the Bulls for 322.
"They decided to play two spinners at the MCG – thought the wicket would probably turn a bit – spin help more than the fast bowlers.
"It was good (to bowl with Ahmed) – he's a class bowler – reckon he could be one of the best in Australia in the moment and he bowled quite well and we bowled well together.
"I kept it tight at my end and he took a couple of wickets and complemented me a fair bit."
Keeping the run-rate low is a great locking method, but Rose was hungry for a wicket and when James Hopes played around a straight ball from him on 88, Rose got to feel the excitement of taking a first class wicket.
"More relief than anything really," Rose said about taking his first wicket.
"They had a bit of a partnership going – Hopesy and Forrest – they had a bit of a partnership going and were going at 70- or 80 odd. All I wanted was really one wicket and didn't want to go through the game without getting a wicket and when I got it I couldn't stop smiling. "
Capping off a strong first showing in the Shield arena, Rose made a quickfire 21 to help boost Victoria to 536 in their first innings.
"It was good – same with the first wicket I wanted to get off the mark – we had to go for quick runs at that stage so they spread the field a little bit – the wicket was a little bit flat and they were a bowler down, so I could play a few shots. Rose wasn't selected for the Bushrangers' Ryobi Cup (50-over) grand final on Wednesday, but hopes to get another chance to impress in one of Victoria's remaining two Shield matches.
"There are two Shield games left and I didn't make the team for the one day final – with few of the national-listed guys coming back – so I'm hoping to play one more Shield game and hoping the pitch is similar," Rose said.
In the meantime, Rose's attention shifts to Casey-South Melbourne's final match of the year – taking on Footscray-Edgewater in a two-dayer.