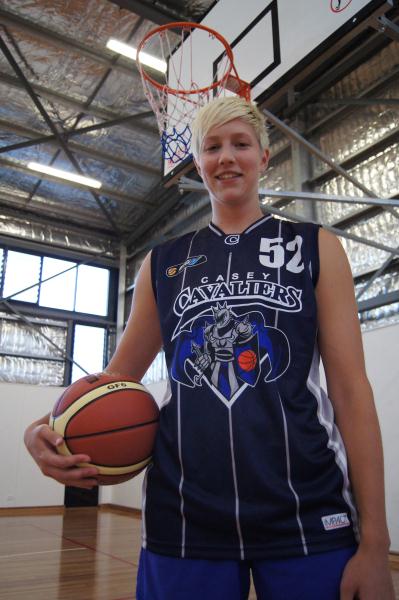 FACING the Cavaliers has become even more difficult in 2013 – with former Sandringham Sabres SEABL centre Leah Swain signing with Casey for the upcoming Big V basketball season.
Swain, 24, from Watsonia, joined the Cavaliers from the Sabres after work commitments forced her to stop playing at the SEABL level.
"I came to the Cavs because when I was at Southern Pen, (Casey coach) Mark was there at the same time and when he became coach, he looked me up and asked me if I wanted to come down," Swain said.
"When I finished with SEABL, I couldn't make a full commitment this year, so I decided to come play Div. 2 and it was an obvious choice as there's a great program down here."
Swain won't be able to play every match, and is likely to miss a fair bit of the season with work, but she intends to make her time in the blue and silver count.
"Coming in and out as I can – my main thing is to provide an inside presence – as we're not a small team, but we're not a big team," Swain said.
"I also want to help the girls wherever I can with the experience I have.
"I like to do a bit of everything – I like to play the post a bit more, but I will step outside if the team needs me to.
"I enjoy the forward stuff as well – it's a bit of a challenge taking people off the dribbles is a pretty new thing for me so that's pretty fun."
Her college experience at the College of the Siskiyous – a junior college in California – taught her to be reliable, work hard and prepare to stand up when the moment demands it, not necessarily all the time.
"The first game I played (in college) made a massive difference to me," she said.
"In the first half, I did absolutely nothing, I had the worst game, I couldn't make a shot and everything was there, but I couldn't make a shot.
"In the second half, I scored 17 points and it was the point I realised that you don't have to play awesomely for the whole game, but you have to eventually get it going and it's not all about scoring, you can make your impact in other ways."
Casey coach Mark Holman said a player of Swain's calibre would have a big impact in the Big V and her expertise would benefit the team on and off the court.
"It takes us to another level – we always had the mentality that we'd be around the mark again and it's not just her (Swain's) size but she's played college basketball and SEABL – which is an extremely high league – and you can already tell during training, she grabs the younger bigs and shows them the ropes and point them in the right direction," Holman said.
Casey faces Keysborough, who is looking to field a team in the Big V competition in 2014, in a pre-season match at Heatherhill Secondary College in Springvale South on Saturday at 5pm before the Labor Day Big-V pre-season tournament at Frankston the following weekend.