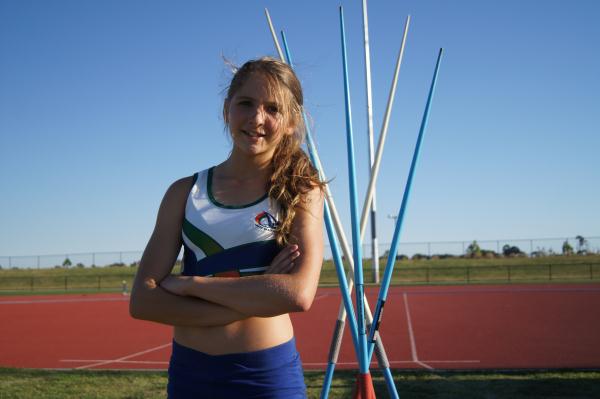 CONVERTING from high jump and triple jump to the javelin is a unique progression for an athlete but it's one that Alyssa Prosser has made her own.
Prosser, 13, from Narre Warren, has a unique set of favourite events in the track and field, representing the Casey Cardinia Athletics Club and Casey Little Athletics Club.
Originally starting out with the jumping events – high jump, triple jump and long jump – but after an injury stopped her jumping temporarily, she picked up the javelin and grew to love the sport.
"I started (javelin) when I had an injury which stopped me from doing high jump and triple jump," Prosser said.
"I just enjoyed it the first year I did it and I decided to start training after that."
Heading into the Victorian Junior Track and Field Championships, Prosser beat her best mark, throwing a 31.15m attempt to win by nearly two metres over her nearest competitors – a win that left her in disbelief.
"I didn't really expect anything as I knew it was hard competition, so I was surprised to win the event," Prosser said.
She's improved on that best even more this week, with a 32-metre hurl her new best mark.
Capping off the successful championship was a personal best in the high jump – reaching 1.55m to bring back a bronze medal.
Prosser kept her winning ways rolling throughout February, picking up four gold medals at the Casey region Little Athletics Championships last week in preparation for the Little Athletics State Championships later this month.
Prosser said she was grateful to her coach, Paul Olsson, for his help in training her across her four main disciplines.