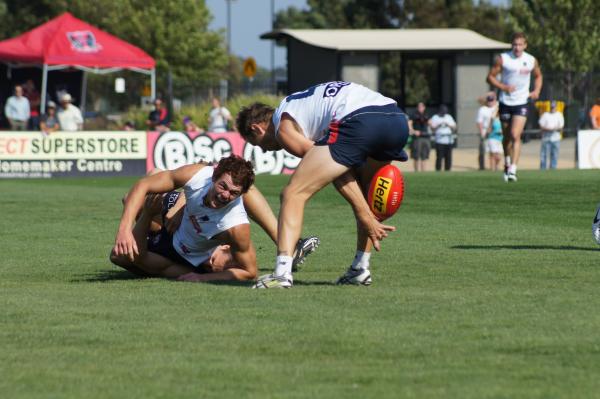 TOP-TIER football finally returns to the south east suburbs, with Melbourne hosting St Kilda in an AFL NAB Cup pre-season match at Casey Fields on Saturday.
The match will be the first proper NAB Cup match played at the venue, which has previously hosted NAB Cup Challenge matches in previous seasons.
With the first bounce at 2.30pm on Saturday, the NAB Cup round three match will be the first major AFL level match played in the area since Waverley Park was put out of commission in 1999. Melbourne is expecting a crowd in the region of 5000 people for the match.
Melbourne's football general manager Josh Mahoney said the match wasn't just for Melbourne fans and encouraged football supporters from all across the area to attend.
The Melbourne Football Club is excited to bring football back to the City of Casey, and this will be the first NAB Cup game played at this venue, he said.
"While we are keen to see our Melbourne faithful attend, we are also encouraging the City of Casey community to support the game in order to build a great atmosphere at Casey Fields.
"This is an important game for our preparation leading into Round 1, and we will be fielding a very competitive team and as a club, we hope that this will be the first of many games held in the City of Casey."
Plenty of talented footballers from the area should take to the Casey Fields Oval, with Garfield's Josh Tynan, Berwick/Beaconsfield midfielder James Magner and former Dandenong Stingrays Nathan Jones set to run out for the Demons.
Former Dandenong Stingrays Arryn Siposs, Dylan Roberton, Stephen Milne and Nathan Wright will likely play for St Kilda in the NAB Cup encounter as well.
The Melbourne Football Club is also hosting a community fun day prior to the match, with activities, free rides and giveaways going on from noon to 2pm.
Melbourne FC advises there will be limited parking available on site at Casey Fields for $5 and to carpool where available. A free shuttle bus will also operate from Cranbourne train station to the grounds. Patrons are also advised to pre-purchase their tickets to the match.