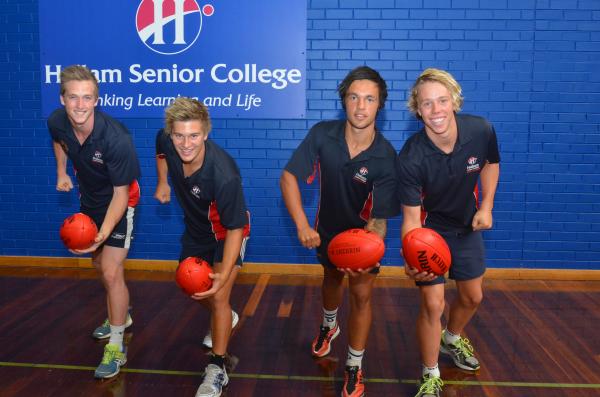 HALLAM Senior College is set to go one better this year in the School Sport Victoria (SSV) Premier League competition with the announcement of a strong senior playing list and their leadership group.
Hallam will be lead onto the field by Dandenong Stingrays TAC Cup listed forward Jack Soroczynski, who has big hopes for his charges this season – especially making it back to the SSV Premier League grand final to avenge last year's loss to Essendon Keilor College.
"It's pretty good thing to do, I'm looking forward to taking leadership of the boys and having a good year," Soroczynski said.
"The program is one of the biggest ones at the school and our main goal is to make the MCG again and just have a more successful year than last year.
"This year's team is a lot different to what we had last year – we're lacking in a little bit of height, but where we lack in height we'll make up for in speed I reckon.
"The team is looking good and we've got a very good chance of making the MCG again."
This season's vice-captains include Dandenong Stingrays midfield pair James Harmes and Nick Battle and Gippsland Power's Troy Toussaint.
On top of the TAC Cup players, Hallam has a number of talented footballers not in the under-18 competition with Mitch Dyer, Tyson Daniels and Jack's younger brother Matt, to ensure there will be depth across all lines this season.
Soroczynski wants his last season of school footy to be successful and believes the Hallam program, with two teams in the Premier competition this year, and a new coach Manny Peresso – will lead the school to some brilliant accomplishments.
"In my last year of school in year 12 and want to finish it on a high and to finish with a win – it would be even better to knock off Essendon Keilor who beat us last year in the grand final.
"This year our school has put in to have two premier league teams in the competition – we'll have two teams in the Premier League competition, so looking forward to seeing the opposition for more boys to play in Premier League and see how well we got and the depth in our list.
"Looking forward to the year ahead in our new coach Manny Peresso – he has brought a lot to the team and brought some great ideas and looking forward to him bringing some new strategies as well."
Peresso said his intent for his first season running the highly successful football academy is to make bigger strides on the football side of the job while also getting the students through their final years of education.
"They've obviously lost the granny last year so my boys are pretty keen to take it one year further," Peresso said.
"We also focus heavily on their education and development – it's not just always about football.
"Retainment of school and bringing professionalism into their lives and monitoring their loads is also a major part of the academy."
HALLAM SENIOR COLLEGE – SENIOR BOYS FOOTBALL LIST
Jacob Braithwaite-Deegan, Jackson Bianco, Beau Chiron, Sam Canny, Jake Cowan, Joshua Cook, Kane Denmead, Jack Farmer, Charlie Gardiner, Ben Giobbi, Wyatt Hansen, Saifullah Hussein Khil, Ben Johnson, Taylor Joyce, Kyle Kime, Jalmar Leficura, Dean Leskie, Jayden Lyall, Dale Mawer, Matthew Parker, Xavier Pauli, Braeden Philpin, Tainui Pira, Christopher Pitsos, Joshua Rich, Dakoda Shaw, Matija Sigeti, Jake Skilton, Matthew Soroczynski, Sultan Taniwal, Kristopher Skosples, Troy Toussaint, Matt Dean, Eddie Mullins, Michael Misso, James Joao, Jordan Bastinac, Nicholas Battle, Tom Bradley, Adam Butler, Zak Calvert, Trent Cody, Jake Cruickshank, Tyson Daniel, Jonathan Daly, Jayden Denmead, Jed Dexter, Mitchell Dyer, Hayden Egerton, Nathan Harmati , James Harmes, Aaron Jones, Andrew Lawless, Clayton McCartney, Nicholas McPherson, Jayden Nolan, Matt Neve, Luke O'Brien, Anthony Sigeti ,Jack Soroczynski, Jack Wheeler, Tristan D'Sylva and Brandon Le.