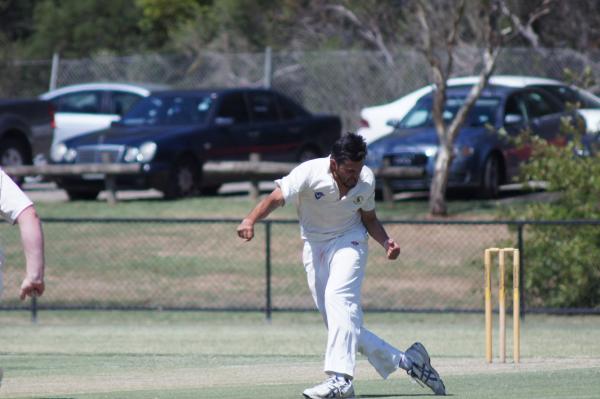 ENDEAVOUR Hills has turned into the form side at the business end of the VSDCA North/East competition with another impressive win, this time in the qualifying finals over Coburg at Sydney Pargeter Reserve.
After winning the toss and electing to bat first in the two-dayer last weekend, the Eagles struggled early – losing both openers, Ben Law (0) and Justin Merlino (8), in quick succession. And when Chris (21) and Neil Peake (9) both fell to Coburg's Will Blair within the space of a run at 4/45, Endeavour Hills looked in desperate trouble.
The wickets continued to tumble as the middle order offered no answers to the visiting attack and the Eagles fell even further into the grips of despair at 6/71. But that's when Endeavour Hills' fighting spirit kicked in. The two Matts – Skipper Matt Hutchinson (39) and Matt Foenander (32) – lead a lower-order rearguard action that saw the side ultimately reach 150 all out – transforming what could have been a disaster into an almost par score on the Endeavour Hills pitch.
Blair was undoubtedly the pick of the visiting attack with 4/41, while Monte Ivancevic was Coburg's other multiple wicket-taker with 2/15.
If the Eagles struggled early in their innings, Coburg was whitewashed to start its reply. Chris Pereira tore through the top order – claiming four of the first five wickets to fall – as the visitors crash-landed to 5/29. But with the exception of Mitch Shellie (36), there would be no imitation rearguard from Coburg as skipper Michael Lewis (14) was the only other batsman to reach double figures. The side was rolled for just 86 in 30 overs – well short of the Eagles' total.
Pereira was simply sensational, showing even less mercy late in the innings than he did to begin it. Most of his wickets were either clean bowled or given out leg before wicket – indicating just how lethally accurate he was. He finished with the incredible figures of 8/26 from his 13 overs, while opening partner Hutchinson (2/41) claimed the other two wickets to fall.
Endeavour Hills now moves on to a semi-final showdown this weekend against Plenty Valley at AK Line Reserve in Bundoora.