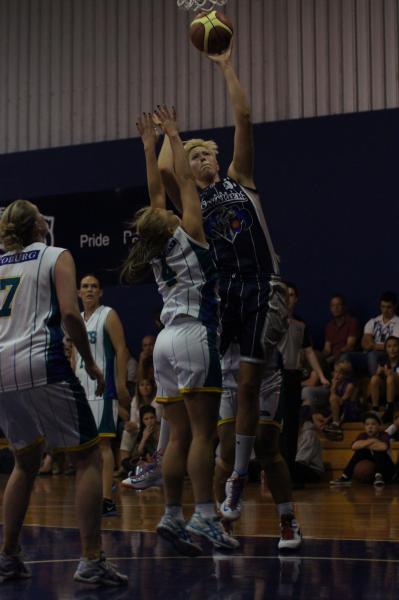 By JARROD POTTER
CAVALIERS' men continue to push ahead in their pursuit of a Big V Championship while the women struggled to put away Coburg before driving through the night to knock off Warrnambool on Sunday.
Turning around an early deficit, the Cavaliers' men stepped up late to capture their fourth straight win – a 73-63 victory over the Giants, with Dylan Wayman (17 points) and Sean McKinnon (12 points, 11 rebounds) leading the way statistically.
"A win's a win – I guess the most pleasing part is we got challenged early," Cavaliers coach Stewart Baird said.
"Coburg came at us hard and decided the way to beat us was not to give us a chance defensively.
"Was a classic battle between a high scoring team and one that wants to shut you down defensively."
"To be challenged as we were – first time we've been down double figures in the season proper, so it was a good effort for the boys to get up in the end."
Baird praised the efforts of McKinnon – with another strong game on the boards – and the stand-up effort of Jamie Leclerc, to play most of the match.
Sean McKinnon – his energy off the bench is valuable and lifts everyone on the court," Baird said.
"Jamie Leclerc played 38 mins and speaks for itself – his defensive effort was fantastic.
"Played his way into the starting line-up and it's hard to think of him losing it."
Jono Hawes will be a notable Casey absentee for the next six weeks or longer, with a broken ankle in a freak training accident.
"One of those crazy moments – it wasn't the ankle he injured against Keysborough," Baird said.
"Thought he was ready to play, him and a mate went to shoot around and he rolled his other ankle doing that.
"Looks like he's either got a fracture or re-fractured an old injury he wasn't aware he had."
The Cavaliers are the only unbeaten team in the Big V Division 2 competition and face Mornington in another triple-header on Saturday.The Cavaliers' women were left to wonder what if with a narrow 54-58 loss to Coburg on Saturday before a hellish drive to Warrnambool to play on Sunday afternoon paid dividends with a 56-49 teeth-gritting victory.
"Quite glad with the way the girls responded on Sunday with the short turnaround," Casey coach Mark Holman said.
"Down by 10 points and the fatigue was there, so I was happy with the way they responded."
Playing 37 and 36 minutes respectively across the matches, Cavaliers' centre Leah Swain was the standout – posting 17 points and 15 rebounds against the Giants before a six-point, nine-rebound effort in a low-scoring game against the Mermaids.
Holman also highlighted the stand-up games of Jess Szalek (13 points, nine rebounds) and Lara Pauline (eight points, five rebounds) on Sunday.
"Leah Swain played big minutes and had a cracking game on Saturday, bit hampered on Sunday – bit fatigued on Sunday, but still held her own and helped us get the win.
"Jess Szalek played a really good game on Sunday and had one of her better games for us, and Lara also had a great match on Sunday as well."
Casey will hope to finally settle their ever-changing roster from now on, hoping to keep their fourth billing in Division 2 women with a win over ninth- placed Mornington.