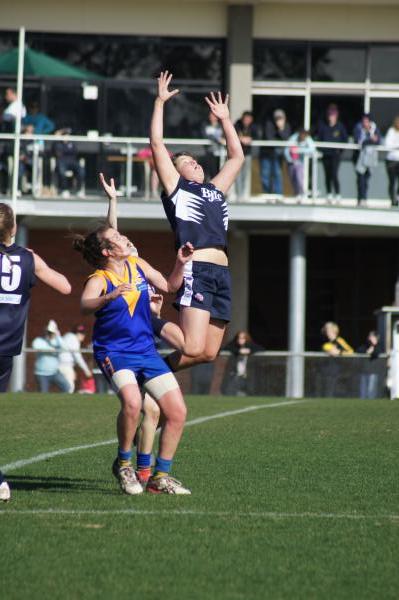 By JARROD POTTER
SIX players from the South East Juniors football league will represent Victoria Metro at the AFL Youth Girls National Championships, held in Shepparton next month.
Among the 27-girl squad are Pip Attard, Georgia Fisher, Lauren Hojnacki, Hayley Wildes and Beaconsfield pair Ellie Blackburn and Karly Tapner, who both said it was a great honour to pull on the colours and represent their state.
It's the last Youth Girls carnival for Blackburn, as she heads into the senior ranks alone next year, and is hoping to finish off the championships with another win to end a successful junior career.
"Just hopefully have another successful carnival, have a win and a similar year to 2011 for me," Blackburn said.
Think the team this year is strong and probably one of the youngest teams we've had, so will be different but hopefully be another good year."
Tapner said the Metro girls had trained hard for this year's carnival, looking to keep the trophy in Victoria for another season – just as long as it's not going to their newly formed Victoria Country opponents.
"We've been training pretty hard this year, so hopefully that pays off," Tapner said.
"Having two Victoria teams – one Vic Country and one Vic Metro – it's pretty interesting. Should be a bit of a rivalry then."
All six representatives will likely feature in the South East Juniors' tilt for a sixth straight win at the AFL Victoria Metropolitan Championships in May-June.
The Youth Girls National Championships run from 5-10 May.
SOUTH EAST JUNIORS VICTORIA METRO REPRESENTATIVES
Pip Attard (Hallam), Ellie Blackburn (Beaconsfield), Georgia Fisher (Berwick), Lauren Hojnacki (Berwick), Karly Tapner (Beaconsfield) and Hayley Wildes (Cranbourne).