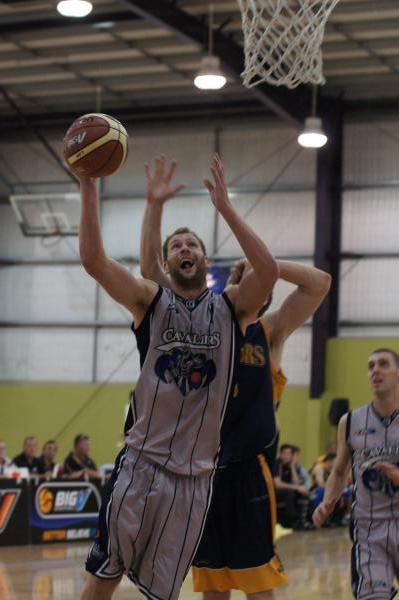 By JARROD POTTER
CEDING top billing in Big V Division 2, the Casey Cavaliers men slumped in the last quarter against the surging Pakenham Warriors to take a 25-point loss.
Well in the match heading into the final term, Casey trailed by three points, but everything fell apart from the get-go in the fourth.
Casey gave the ball back too often – leading the turnover count 21-4 after half time – as Pakenham ripped the ball back at every opportunity to outscore the Cavaliers 28-6.
Casey coach Stewart Baird urged the Cavaliers at three-quarter-time to stick fast in the final term, but his pleas didn't register as Casey fell to their biggest loss of the season – 55-80.
"I implored them at the quarter to be resilient and show me that in adversity they could rise above it," Baird said. "What can I say, the wheels just fell off."
"Pak did a great job of applying some pressure and we just simply didn't go with them.
"Turnover count was ridiculous – we're better than that.
"Not taking anything away from Pakenham – their pressure was fantastic – but we're smarter and better than that and didn't show it."
Casey's leaders Ash Szalek (14 points, nine rebounds), Dean Johnson (12 points, 13 rebounds) and Steve Michalski (eight points, seven rebounds, six assists) all put the points on the board.
"Steve had a fair bit of it, Dean rebounded very well and didn't really get any love from the officials and managed to stay out of foul trouble and contribute offensively," Baird said.
"Apart from that, I'd be struggling – even though those two guys weren't at their best, they certainly stood out the most."
The point-duo Michalski and Dylan Wayman gave up 19 turnovers between them, in a match they'll hope to forget fast.
Back to the drawing board this week, Baird said he'll train his team into the ground to get a better result against Melton this weekend and bounce back from their drop to fourth on the ladder.
"Tonight's (Tuesday) practice has to be all about hard work and attitude – if they have to do a lot of running without basketballs that's how it has to be," Baird said.
Casey's women fared much better and brought home a gritty 47-35 point win over Melbourne Uni.
Led for the first time by coach and former player Nikki Hornstra, who filled in for Mark Holman, the Cavaliers eked out a winning score via Jess Szalek (18 points, eight rebounds) and a fantastic defensive effort from centre Leah Swain (six points, 12 rebounds). Also spreading her numbers across the board was 2012 Big V All-Star Keira Beswick (six points, eight rebounds).
The Cavaliers face their biggest challenge yet this season – taking on unbeaten Southern Peninsula Sharks away on Saturday afternoon before heading home Sunday to play fourth placed Warrnambool Mermaids.