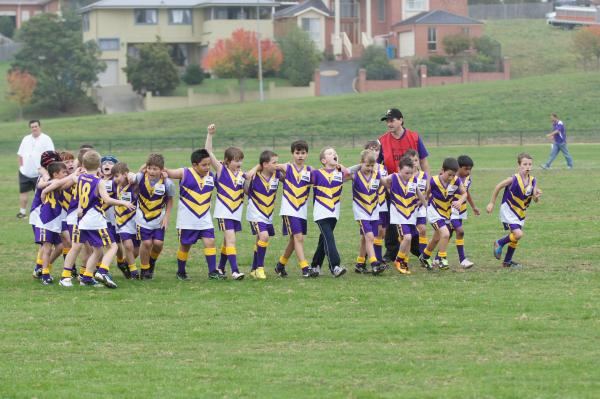 By JARROD POTTER
TIMBARRA Reserve opened on Sunday morning to the joy of all Timbarra Tornados footballers.
Grey skies and a howling wind couldn't stop the Timbarra faithful turning up to celebrate the opening of the facility, with the Tornados under-9s, under-10s, under-11s and under-13s all squaring off in grading matches in the South East Juniors Football League.
Timbarra Tornados Junior Football Club committee member Wayne Scott said it was exciting to get the facility up and running after a five-year wait for the club's home ground.
"It's really good to be here for the first time," Scott said. "It's exciting but also relief – I think that everyone seems to enjoy it and everyone had a great day.
"We've been waiting a really long time, five years for us, so it's finally good to have a home-base."
The Tornados under-13s snared the first home-ground success at the reserve, knocking off Narre South Lions Gold 11.12 (78) to 0.2 (2) while their under-11s, under-10s and under-9s also played on Sunday for the first time at their new home.
Timbarra and all the clubs in the South East Juniors will take part in the inaugural Spirit of Football Round this weekend, with the aim to unite the football community, creating awareness of good role models, tolerance and sportsmanship among our state's young athletes and their families.
The Spirit of Football round is an initiative of the South East Juniors, one of the largest junior leagues in south eastern Melbourne with 24 clubs, more than 4700 players and over 3000 volunteers, in partnership with The Beehive Foundation, AFL Victoria, and SportingPulse.
"We see ourselves being at the forefront of promoting positive environments for which everyone can be a part of," SEJ general manager Shaun Connell said.
"AFL is such an embracing sport of cultures male and female and this is a great way to highlight what AFL has to offer."
All players will wear green armbands on the weekend as part of the round.